Baseball ends Florida trip with loss
---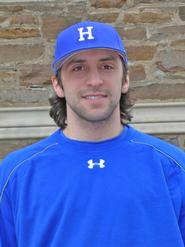 Austin Shea allowed two earned runs in six innings of relief to lead Sewanee to a 10-5 victory over Hamilton College in a non-conference game played in Winter Haven, Fla., on March 22.

Shea scattered six hits, struck out four batters and walked one. Sewanee (7-11 overall) racked up 15 hits, including four by Alan Komorowski. Komorowski singled three times, doubled and scored a run. Ryne Sullivan tallied three hits and three runs batted in. James Snover, Blake Williams and Nate Barnett chipped in two hits each. Williams and Barnett scored two runs apiece.

Sam Choate '12 led the Continentals with two hits, including the eighth home run of his Hamilton career, and two RBI. Gabe Klein '13 singled, doubled and drove in a run, and Lukas Bridenbeck '13 had two hits. John Wulf '12 and Alex Pachella '15 each added a single and scored a run. Sam Fuentes '13 and Thomas Merriman '15 also singled.

Hamilton (3-12) jumped on top in the first inning. Klein lined a two-out single through the left side, and Choate followed with a blast to left field to give the Continentals a 2-0 advantage.

Sewanee struck back with three runs in the bottom of the third inning. Barnett, Williams and Jack Whaley led off the inning with three straight singles, and each later came around to score.

Hamilton evened the score in the top of the fifth when Wulf led off with a single and eventually scored on Klein's sacrifice fly. The Continentals pulled ahead with two runs in the top of the sixth inning. Bridenbeck and Pachella led off with back-to-back singles, an error allowed Bridenbeck to score and Pachella came home on an RBI groundout by Wulf one batter later to make it 5-3.

The Tigers took the lead for good with three runs in the bottom of the sixth inning. Sullivan capped the frame with a two-run single to give Sewanee a 6-5 advantage. The Tigers tacked on a run in the eighth and three in the ninth to close the scoring.

The Continentals travel to Amherst College for a NESCAC game on Friday, March 30, at 3:30 p.m.