Baseball ends Florida trip with losses to Chicago
---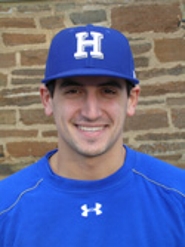 Hamilton College was swept by the University of Chicago in a non-conference doubleheader played in Auburndale, Fla., on March 23.

Chicago (4-1 overall) outslugged Hamilton in the opener 11-8, and edged the Continentals 6-4 in Game 2. Hamilton (3-9) is scheduled to play two non-conference games at SUNY Cobleskill on Sunday, March 27.

In Game 1, Justin Atwood '11 had two hits, scored two runs and drove in two. Sam Choate '12 chipped in two hits and two RBI and Joe Buicko '11 went 2-for-4 with two runs and a run batted in. Pat Gennaco '11 added two hits and an RBI. Buicko, Atwood and Choate all hit doubles. Alex Potoczak '13 pitched one inning in relief of starter Michael Affuso '14 and took the loss.

The Maroons scored at least one run in each of the first five innings. The Continentals were still tied with Chicago at 7-7 after plating five runs in the bottom of the second inning. The Maroons pulled away with single runs in the third and fourth, and two more in the fifth for an 11-7 advantage.

In the second game, Wes Mayberry '11 led the offense with three hits. Gennaco added two hits, Choate singled and drove in two runs and Mike Matt '11 smacked a triple and had an RBI. Dan Kroening '11 pitched 1.1 innings in relief of starter Joe Wagner '14, and was saddled with the loss.

Chicago led 4-0 through four innings, but Hamilton rallied to tie the score with two runs in the top of the fifth, and two more in the sixth. The Maroons grabbed the lead again with two runs in the bottom of the frame, and limited the Continentals to one baserunner in Hamilton's final at-bat in the seventh.