Baseball falls in NESCAC West finale
---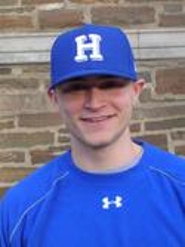 Ben Oliva '12 pitched eight solid innings to lead Williams College to a 10-3 win against Hamilton College in a New England Small College Athletic Conference West Division game at Hamilton's Royce Field on May 1.

Oliva scattered eight hits and gave up three runs as his record improved to 3-1. He walked just two and struck out eight. Dan Grossman '12 struck out the side in the ninth inning.

Matt Kastner '14 doubled twice, singled and drove in a run for Williams. K.C. Murphy '13 singled and drove in two runs with a home run in the third inning. Cameron Susk '12 homered and drove in two runs. Tom Stephens '14 and Adam Marske '14 chipped in two hits and one RBI apiece. Marco Hernandez '14 drew three walks and scored two runs.

Justin Atwood '11 doubled and hit his 12th career home run for Hamilton. Atwood is tied for second on the Continentals' all-time home run list. Wes Mayberry '11 singled, doubled and drove in a run. Sam Choate '12 cracked his eighth double, scored two runs and stole his 10th base.

Alex Potoczak '13 allowed one unearned run on two hits and struck out two in 2.1 innings of relief. John Wulf '12 followed Potoczak and gave up one hit in three scoreless innings.

After winning a pair of one-run games against Hamilton on Saturday, the Ephs broke this one open early with five runs in the first inning and two in the third. Kastner led off the game with a double against Continental starter Brendan Rafalski '11, and went to third on a single by James Allison '11. Allison stole second base to put runners at second and third. Susk's ground ball to shortstop scored Kastner, and another groundout by Pat Barren '11 plated Allison.

With the bases empty and two outs, Hernandez walked, stole second and went to third after the throw hit him and bounced into center field. Stephens drove in Hernandez with a single and went to second on a single by Murphy. Jimmy Ray '13 singled to drive in Stephens with the fourth run. Marske drove in Murphy with the sixth hit of the inning. Murphy's two-run homer to left in the third inning made the score 7-0.

Williams (22-10 overall, 5-7 NESCAC West) hosts Springfield College for a non-conference game on Monday, May 2.

Hamilton (8-23, 1-11) hosts nationally ranked St. John Fisher College for a non-conference contest on Saturday, May 7.