Baseball falls to Amherst
---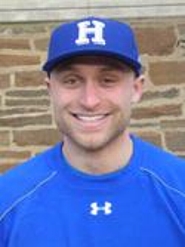 Amherst College scored six runs in the bottom of the first inning and went on to defeat Hamilton College 24-13 in a New England Small College Athletic Conference West Division game played at Amherst's Memorial Field on April 2.
The Lord Jeffs (8-7 overall, 1-0 NESCAC West) and Continentals (5-10, 0-1) will begin a doubleheader at noon on Saturday, April 3, at Amherst.

The teams combined for 37 runs on 38 hits and eight errors. Eleven Continentals had at least one hit in the game. Hamilton used seven pitchers and sent 16 players to the plate.

Five Hamilton players had a multi-hit game, with Grady Vigneau '10 leading the way. Vigneau went 2-for-4 with a career-high six RBI. Four of those runs came in the top of the seventh inning when he belted a grand slam over the center field fence to pull the Continentals within 13-8.

Joe Buicko '11 led off the game with a double to center and scored on a groundout to third by Wes Mayberry '11 for a brief 1-0 lead after the top of the first inning. Amherst led off the bottom of the inning by hitting a home run over the fence in left field to tie things up. The Jeffs added five more runs before the inning was over and never looked back. Amherst plated two runs in the second, two in the third, five in the fourth, two in the seventh and seven in the eighth.

The visitors chalked up three runs in the top of the third to make it 10-4, and Vigneau made things interesting with his grand slam, but Amherst's hitting was too much to overcome. Hamilton combined for nine runs in the final three innings. Buicko finished with two doubles, Justin Atwood '11 singled twice and scored two runs, Rob Castellano '11 came off the bench to collect two hits and Kevin Prindle '13 had two singles and an RBI.

Andrew Perkowski '13 (0-3) took the loss for Hamilton after lasting only one inning. Michael Caruso '12 pitched the second and third innings, and five Continentals pitched one inning apiece. Dan Kroening '11 and Nzaba Fonseca-Sabune '12 each pitched a scoreless frame.