Baseball falls to Middlebury
---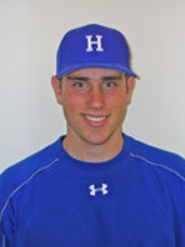 Middlebury College took a 4-0 lead with a four-run third inning and went on to defeat Hamilton College 13-1 in a New England Small College Athletic Conference West Division game at Hamilton's Royce Field on April 23.
Justin Atwood '11 pitched the first three innings for the Continentals (7-21 overall, 0-10 NESCAC West). Atwood allowed four earned runs on six hits, struck out three and walked four in his first start of the season.

Andrew Perkowski '10 relieved Atwood in the fourth inning. Perkowski allowed eight runs on 10 hits, struck out three batters and walked three in 4.1 innings. Alex Potoczak '13 came in to get the final five outs. Potoczak gave up one hit and two walks, but no runs.
Grady Vigneau '10 finished with one double and drew a bases-loaded walk to force in the Continentals' run in the sixth. Vigneau leads the Continentals with 21 RBI. Alex Augustyn '10 tied a team record with his 29th career double. Joe Buicko '11 tallied two singles and stole his 10th base. Kevin Prindle '13 and Atwood hit one single apiece.
The Panthers (7-12, 3-4) scored four runs on five hits in the third inning, including a two-run homer over the left field fence. Middlebury added another run in the fourth to go up 5-0. The Panthers led off the fifth inning with back-to-back singles, and then hit a double to drive in their first run of the inning. They added two more runs to stretch their lead to 8-0.
In the bottom of the sixth, Buicko reached first on a throwing error by the Panthers' third baseman, and advanced to second when the throw got past the first baseman. Buicko moved to third on a wild pitch. Augustyn then reached first on a weak ground ball towards third as the third baseman tried to tag out Buicko.

With two outs, Augustyn advanced to second on another wild pitch, and back-to-back walks to Prindle and Vigneau plated Hamilton's lone run. Middlebury scored five runs in the eighth inning, including another two-run homer, for the final margin.
The teams will play a NESCAC West doubleheader at Hamilton on Saturday, April 24.