Baseball falls to SUNY Brockport
---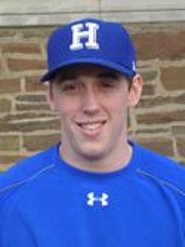 SUNY Brockport scored eight runs in the third inning and seven in the fourth, and went on to defeat Hamilton College 20-9 in a non-conference game at Brockport's Clark Whited Complex on April 13.
Alex Potoczak '13 started on the mound for the Continentals (6-17 overall) and took the loss. Potoczak allowed seven earned runs on nine hits, struck out one and walked three in three innings.

Eli McCargar '10 came on in relief and faced six batters in the fourth. McCargar was relieved by John Wulf '12, who pitched three innings. Wulf struck out four and walked just one. Stephen Wright '12 and Rob Barbieri '13 pitched one scoreless inning apiece.
Kevin Prindle '13 and Jeremy Brenner '10 led Hamilton offensively. They each recorded one home run, one single and three RBI. Brenner's homer was his first at Hamilton. Prindle hit his second home run in as many games. Sam Fuentes '13 hit a double and drove in a run. Rob Castellano '11 hit two singles and recorded an RBI. Joe Buicko '11 had one double and one single.
SUNY Brockport (15-9) scored two runs in the first and another in the second to take a 3-0 lead. The Golden Eagles took control with eight runs in the third and seven in the fourth to go up 18-0. Brockport continued to add to its lead with one run in the fifth and another in the sixth to take a 20-0 lead.
Hamilton finally got on the scoreboard in the top of the seventh. Prindle singled up the middle and Grady Vigneau '10 followed with a walk. Sam Choate '12 singled to second and advanced on a throwing error by the second baseman, which sent Vigneau to third and scored Prindle.
The Continentals added two more runs in the eighth inning on Brenner's home run. Hamilton rallied with six more runs in the top of the ninth. A Castellano single plated the first run. Fuentes doubled to drive in another, and Brenner followed with an RBI single. Prindle hit a three-run homer to round out the scoring.

The Continentals travel to Williams College for a New England Small College Athletic Conference West Division weekend series. The teams play a single game on Friday, April 16, and a doubleheader on Saturday, April 17.