Baseball falls to UMass Boston
---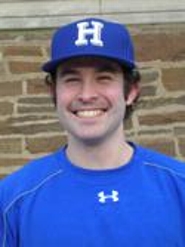 The University of Massachusetts-Boston scored 11 runs in the first five innings and went on to defeat Hamilton College, 11-3, in a non-conference game at Pat Thomas Stadium in Leesburg, Fla., on March 17.
The Beacons (3-2 overall) scored their first run in the second inning on a wild pitch after leading off the inning with a walk. UMass Boston singled to lead off the third inning and trotted home on a two-run home run to right-center field for a 3-0 margin.

The Beacons followed with a double down the left field line, stole third and later scored on a single through the left side. UMass Boston singled up the middle and -- following an error -- beat out an infield hit to score and make it 5-0. The Beacons added two more runs on another error.
Hamilton (1-4) got on the board in the bottom of the third. Pat Gennaco '11 drew a two-out walk and came around to score on a double to right field by Wes Mayberry '11 to cut the deficit to 7-1.
The Beacons plated three more runs in the fourth. A single up the middle made the score 9-1. Another single up the middle advanced the baserunner to third, where he was knocked in on a sacrifice fly to center field. The Beacons scored their final run in the fifth inning when they worked a leadoff walk, moved to second on a ground out and scored on a single up the middle.
The Continentals scored two more runs in a sloppy eighth inning. Sam Choate '12 got on base on a wild pitch on strike three and advanced to third on a pair of wild pitches before scoring on a throwing error. Lukas Bridenbeck '13 drew a walk and later scored on a sacrifice fly to right field by Mayberry to cut the margin to 11-3.
Stephen Wright '12 suffered the loss for the Continentals, allowing seven earned runs on 10 hits and a walk, while fanning a batter in four innings. Rob Barbieri '13, John Wulf '12 and Donovan Flint '11 also made appearances on the mound. Wulf tossed three perfect innings. Gennaco, Mayberry, Justin Atwood '11 and Alex Augustyn '10 each collected hits for Hamilton.
The Continentals will play University of Massachusetts-Dartmouth on Thursday, March 18, at 3:30 p.m. in Auburndale, Fla.