Baseball falls to Williams in NESCAC West finale
---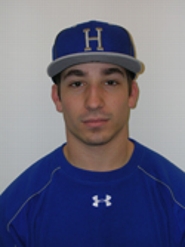 K.C. Murphy hit a go-ahead two-run double in the bottom of the eighth inning to lift Williams College to a 6-4 win over Hamilton College in a NESCAC West Division game at Williams' Bobby Coombs Field on April 29.

Williams (16-17 overall, 7-5 NESCAC West) completed the series sweep and extended its win streak to six games with the victory. The Ephs defeated the Continentals twice on Saturday afternoon.

Cameron Susk doubled and Phil McGovern finished with two hits for Williams. Darren Hartwell singled and scored a pair of runs, and Marco Hernandez drove in two runs. Taylor Mondshein, Jimmy Ray and Luke Pierce had the other hits.

Steve Marino started on the mound for the Ephs and scattered nine hits and one earned run over five innings. Dan Grossman pitched three scoreless innings in relief and picked up the win. Ray recorded the final out to earn his third save.

Gabe Klein '13 paced Hamilton's offense with two hits, including a double. Sam Fuentes '13, Lukas Bridenbeck '13, Thomas Merriman '15 and Tyler Reinhold '15 each finished with two hits, and John Wulf '12 and Colin Henneberger '14 added singles.

Starting pitcher JJay Lane '15 scattered eight hits and allowed four earned runs in 7.2 innings, and was saddled with the loss. Andrew Hove '15 recorded the final out of the eighth inning in relief.

Williams jumped out to a 2-0 lead in the bottom of the first inning. Hartwell led off with a single up the middle and advanced to third on an error that allowed Ben Oliva to reach safely. Hartwell scored and Oliva moved to second on a wild pitch, and one batter later, Hernandez brought home Oliva with a groundout to second base.

Hamilton (6-26, 2-10) pulled ahead with three runs in the top of the third inning. Klein led off with a single, Bridenbeck walked and Sam Choate '12 was hit by a pitch to load the bases. Wulf reached on an error that allowed Klein and Bridenbeck to score, and Merriman followed with a single through the right side that scored Choate.

Hartwell reached on an error to lead off the bottom half of the inning. He stole second base, moved to third on a groundout and came home on a sacrifice fly by Mondshein that tied the score at 3.

The Continentals took the lead again with a run in the top of the fourth inning. Fuentes reached on a one-out infield single, moved to second on a groundout by Klein and came home on Bridenbeck's single up the middle.

Williams took the lead for good with three runs in the bottom of the eighth inning. Mondshein reached on an infield single and later came around to score the tying run on a sacrifice fly by Hernandez. McGovern hit a two-out single to center and moved to third on a single to right by Ray. Murphy followed with a double to right center that plated both runners for a 6-4 lead.

The Continentals had the tying run on base in the top of the ninth inning after Merriman reached on a two-out single and Henneberger drew a walk. But Ray came on in relief and struck out the next batter to seal the victory. Hamilton lost its last six games of 2012.