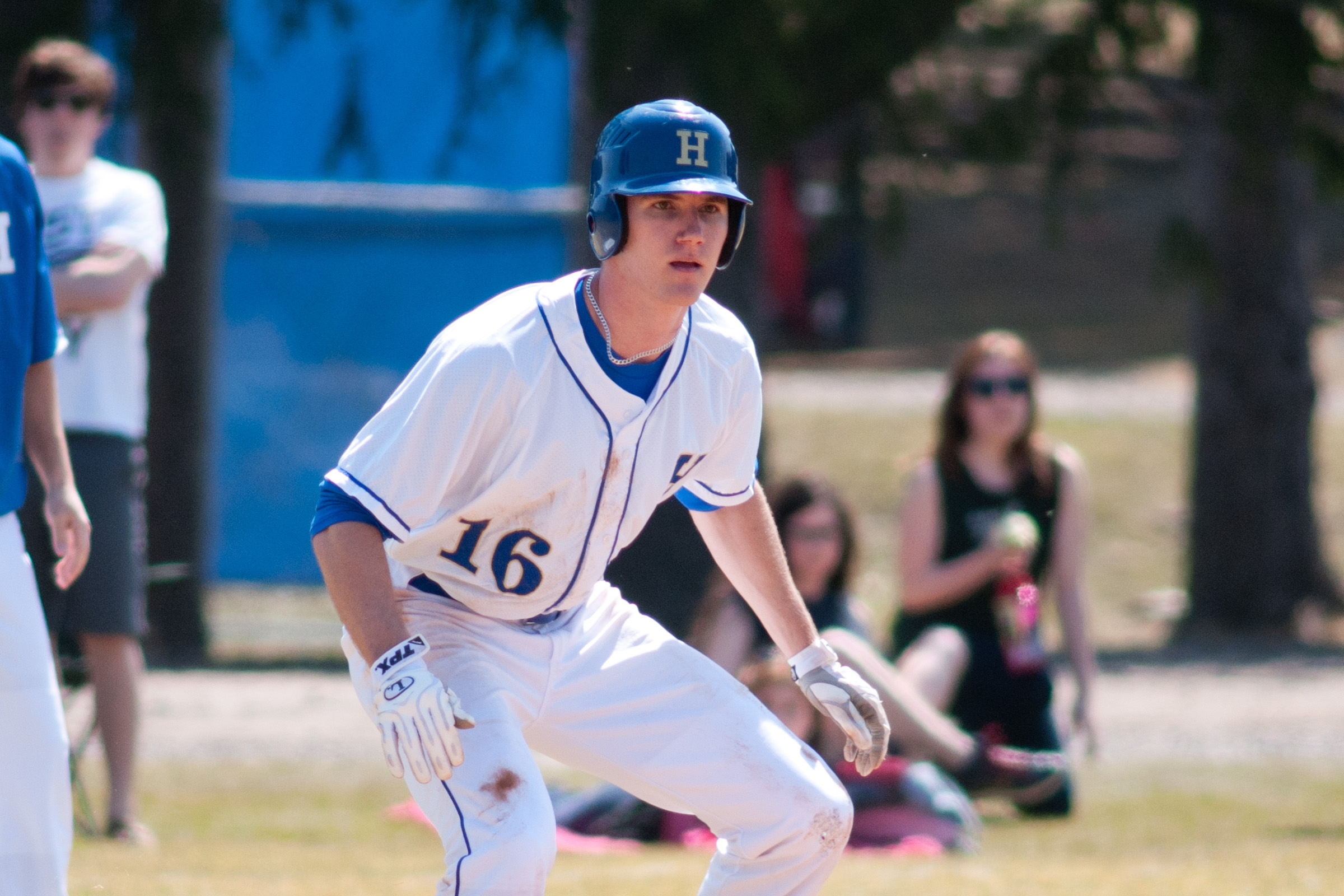 The Hamilton College baseball team returned to action on Saturday, playing for just the second time in 18 days. The Continentals split a NESCAC West Division doubleheader at Middlebury College, winning the nightcap 10-8 after losing game one 11-5.

Game one box score | Game two box score

Hamilton (8-6, 1-1 NESCAC West) jumped out to a 10-1 lead in the second game then held on as the Panthers scored seven times in their final two at-bats. Middlebury scored three eighth-inning runs then added four more in the bottom of the ninth, putting the winning run on base before the Continentals escaped with the win.

Cole Dreyfuss '16 earned his fourth win in as many starts in game two, allowing four hits and an unearned run over seven innings. He matched a season high with nine strikeouts while improving to 4-0.

The Continentals scored six runs in the third to break a 1-1 tie. Zach Becker '16 capped the outburst with a two-run double. Andrew Haser '17 started the scoring with a run-scoring single and two batters later Dean Rosenberg '18 singled to right field to bring home a run. A ground out by Chris Collins '17 and an infield single by Tyler Reinhold '15 brought in one run apiece before Becker's fourth double of the year.

Hamilton added three more runs to go ahead 10-1 with Joe Jensen '15 scoring two of them. He led off the sixth with a single, moved to second on a walk to Brett Mele '17, stole third and scored on a ground ball by Kenny Collins '17.

Two innings later, Jensen and Kenny Collins both singled to put runners on the corners and executed a double steal. Haser, who had four hits on the day, closed out Hamilton's scoring with an RBI double.

The Panthers (1-13, 1-7) scored three two-out runs in the eighth after loading the bases on three straight walks. Joe MacDonald '16 followed with a bases-clearing double.

In the ninth, a lead-off single by Johnny Read '17 and walks to Brendan Donohue '18 and Max Araya loaded the bases. Middlebury scored on an infield grounder then closed to 10-6 on a single to center by Raj Palekar '18. A walk to Ryan Rizzo '17 re-loaded the bases and pinch-hitter Dylan Sinnickson '15 singled in a pair of runs. The Panthers put the go-ahead run on base when pinch-hitter John Luke '16 drew Middlebury's 10th walk before the Continentals sealed the win with an infield groundout.

Jensen and Reinhold both had three of Hamilton's 12 hits. Jensen's two stolen bases raised his season total to 11 and extended his school-record career total to 65.

In the opener, the Panthers went down in order in the first inning but used seven singles and a pair of doubles over the next two innings to score 11 runs. Luke lined a two-run single off Hamilton pitcher JJay Lane '15 that landed in center field to start the six-run second inning and Donohue added a two-run double.

Luke, Read and Donohue each drove in a run in the third before Araya doubled home a pair of runs. Araya, Donohue, Palekar and Read had two hits each.

The Continentals picked up all five of their runs in the top of the seventh. Jensen and Mele opened the scoring with RBI singles and Haser doubled in a run before Ryan Wolfsberg '17 singled home a pair of runs. Haser and Mele finished with two hits apiece.

The two teams wrap up their weekend series with a noon game on Sunday, April 12.