Baseball loses pitcher's duel at Middlebury
---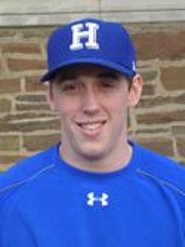 Middlebury College pushed one run across in the bottom of the second inning, and that run was the difference as the Panthers edged Hamilton College 1-0 in a New England Small College Athletic Conference West Division game at Middlebury's Forbes Field on April 23.

Kevin Prindle '13 was the hard-luck loser on the mound for Hamilton. Prindle scattered eight hits and allowed one run in eight innings. He walked four and struck out four. He has allowed just six earned runs in his last 26 innings that have covered three complete games.

A double by the Continentals' Sam Choate '12 was the game's lone extra-base hit. Wes Mayberry '11 and Joe Buicko '11 also had one single apiece.

John Wiet tossed a three-hit shutout as the Panthers completed a three-game sweep in the weekend series. Wiet struck out six in the complete game win. Middlebury (12-9 overall) finished NESCAC West play with an 8-4 mark.

The game's lone run came in the second, when Zach Roeder extended his hitting streak to 12 games with a single through the left side. Michael Morris singled to center with one out, and moved Roeder to third base.

Morris later advanced to second on a wild pitch, and Tyler Wark walked to load the bases. Alex Kelly followed with a single to right, and plated Roeder for the 1-0 lead.

Hamilton (8-19, 1-8) received a two-out double down the left field line from Choate in the fourth, but could not tie the game. Pat Gennaco '11 advanced to third with two outs in the fifth for the Continentals, but was stranded when the next batter struck out looking.

Middlebury nearly gained some breathing room in the eighth inning as they loaded the bases. Thomas Driscoll singled, Will Baine reached on a fielder's choice and Donald McKillop earned a walk. Michael Morris ended the inning with a foul pop-up to the first baseman.

Wiet (2-2) was strong in the ninth as he retired the side in order to secure the win. Roeder finished 2-for-4 with a run scored, while Driscoll went 2-for-4.

Hamilton takes on Utica College for a non-conference game at DeLutis Field in Rome, N.Y., on Tuesday, April 26, at 6 p.m.