Baseball drops two games at Amherst
---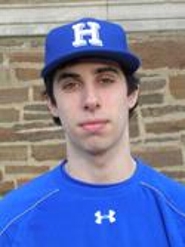 Amherst College defeated Hamilton College 8-4 in Game 1 and 14-3 in Game 2 in New England Small College Athletic Conference West Division games at Amherst's Memorial Field on April 3.

In the seven-inning opener, Amherst (10-7 overall, 4-2 NESCAC West) scored the first run with a lead-off homer in the second inning. Hamilton (5-12, 0-3) took a 2-1 lead in the third inning. Dan Peters '13 scored the first run on a sacrifice fly to left by Joe Buicko '11. Pat Gennaco '11 scored the second run on a single by Sam Fuentes '13.
The Lord Jeffs tied the score with one run in the bottom of the third. They added two more runs for a 4-2 lead in the fourth. Peters and Gennaco kicked off the top of the fifth with a single and a walk, respectively. It became a 4-4 game when both players came around to score on singles by Buicko and Fuentes, who combined to go 4-for-6 with four RBI in the first game. Amherst took control with a four-run sixth inning for the final margin.
Max Foster '10 started on the mound for Hamilton. Foster pitched 5.2 innings and allowed just one earned run on seven hits. He finished with three strikeouts and two walks. Michael Caruso '12 came on in relief to get the final out in the sixth. Amherst narrowly out-hit Hamilton, 9-8.

In the nine-inning nightcap, Amherst led 10-0 after four innings. The Continentals scored two runs in the fifth when Grady Vigneau '10 hit a two-run homer -- his second round-tripper of the series.
The Lord Jeffs added three runs in the bottom of the fifth to lead 13-2. Hamilton scored one more run in the top of the sixth. Kevin Prindle '13 earned the RBI on a groundout as Jeremy Brenner '10 scored. Brenner pinch ran for Buicko, who had led off the sixth with a single. Amherst scored once in the bottom of the sixth for the final margin.
Stephen Wright '12 started and pitched five innings for Hamilton. Wright allowed eight earned runs on 14 hits and walked three. Prindle and Wes Mayberry '11 finished with two hits apiece. One of Mayberry's hits was a double.

The Continentals return to action on Wednesday, April 7, when they travel to Utica College for the annual Jackie Robinson Game.