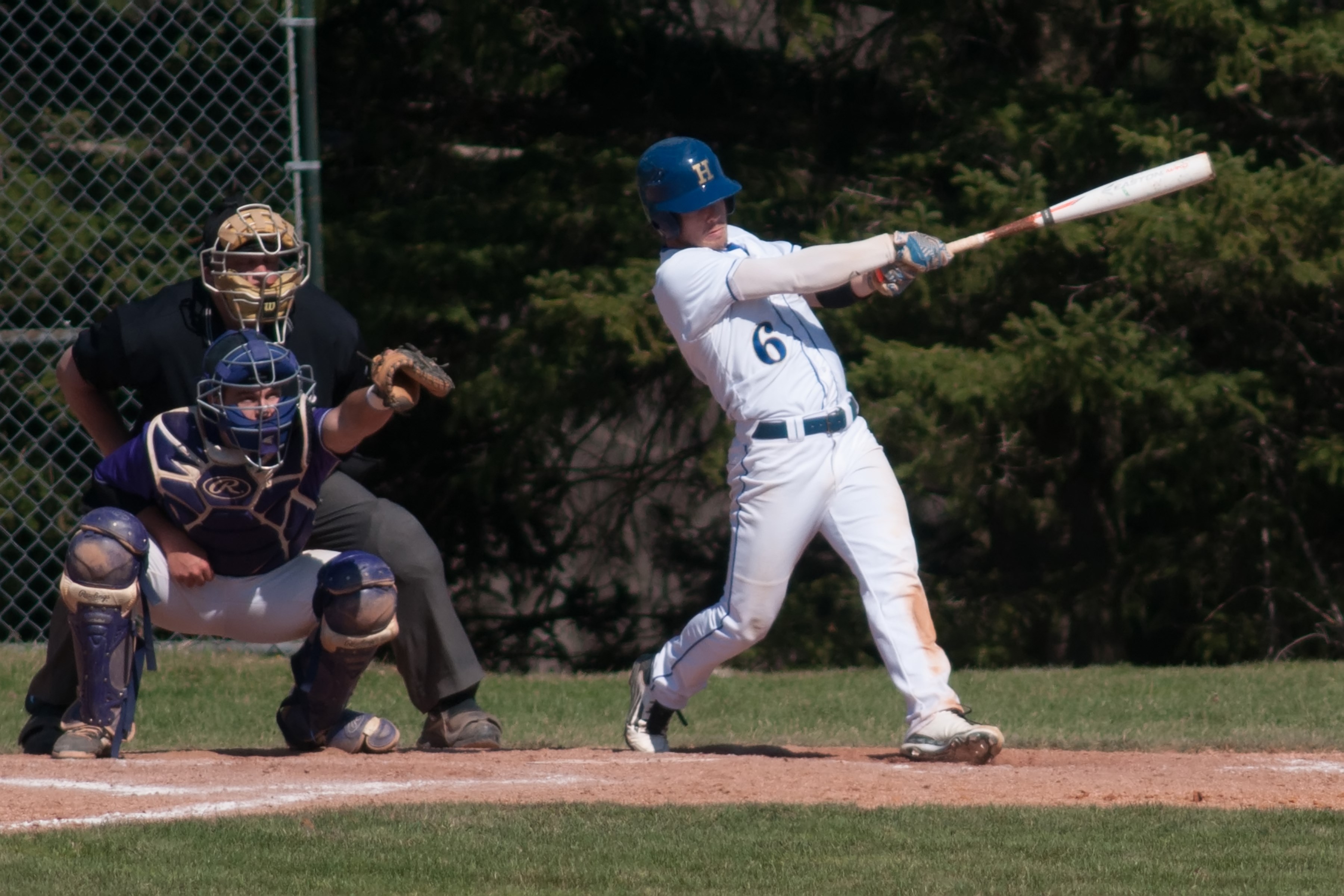 The Hamilton College baseball team opened a weekend NESCAC West Division series against Williams College by beating the Ephs 3-2 on Saturday afternoon at Rome's DeLutis Field. The Continentals (12-9, 3-4 NESCAC West) scored the winning run in the bottom of the eighth.

Box score

Chris Collins '17 led off the Hamilton eighth with his career-best fourth hit, then stole second and wound up on third when Williams' catcher threw the ball away. Two batters later a groundball off the bat of Tyler Reinhold '15 brought Collins in with the go-ahead run.

JJay Lane '15 went eight innings to earn his first win of the season. He matched a career high with six strikeouts.

The Continentals trailed 2-0 after four innings before tying the game with a two-run fifth. Ryan Wolfsberg '17 beat out a one-out infield hit and scored on a single by Dean Rosenberg '18. Hamilton tied the game when Rosenberg came home on the second of Collins' single-game record three doubles.

Lane allowed seven hits over the first 2.1 innings, but after Williams scored twice in the third he retired 13 of the final 16 hitters he faced, setting down 11 in a row at one point.

The Ephs (9-15, 3-7) picked up just one hit in the final 6.1 innings – an infield single by Lev Schecter '18 in the seventh – and mounted only one threat, putting two runners on in the top of the eighth. Jack Roberts '17 was hit by a pitch to lead off the inning and two batters later Adam Dulsky '18 was hit but Lane coaxed a fly ball from the final batter he faced to end the inning.

Finlay O'Hara '17 needed just 11 pitches to retire the side in order in the ninth for his second save.

Williams took a 2-0 lead in the third. Jack Cloud '17 singled with one out and Roberts and Phil McGovern '15 followed by beating out infield singles. Adam Regensburg '18 forced in a run by drawing a five-pitch walk and Dulsky singled in a run.

Both Roberts and Dulsky had two of Williams' eight hits. Wolfsberg recorded his third three-hit game of the season for the Continentals.

The teams conclude their series on Sunday, April 26, with a noon doubleheader at Hamilton's Royce Field.