Baseball picks up win over SUNYIT
---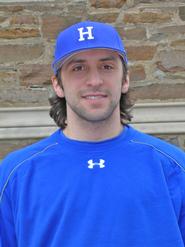 Dan Peters '13 had three hits and Sam Choate '12 drove in three runs to lead Hamilton College to a 14-8 win against SUNY Institute of Technology in a non-conference game at Hamilton's Royce Field on April 11.
The Continentals (6-16 overall) ended their losing skid at seven games. SUNYIT (10-14) had won its previous four games.
Eight of Hamilton's nine starters collected a hit and the Continentals finished with 17 as a team. The 14 runs marked a season high.

Joe Buicko '11, Alex Augustyn '10, Wes Mayberry '11, Justin Atwood '11, Grady Vigneau '10 and Choate all had two hits. Atwood, Vigneau and Choate hit their fourth doubles this year. Augustyn and Vigneau ended up with two RBI apiece. Vigneau has reached base 14 times (8 hits, 6 walks) in his last 15 plate appearances.

Augustyn recorded his 100th career hit. He is the seventh player in program history to achieve that milestone. The team record for hits in a career is 124, which is held by Pat McGarry '07.
Kevin Prindle '13 hit his first collegiate home run -- a solo shot off the scoreboard in left -- and pitched one scoreless inning of relief in the seventh for Hamilton. Dan Kroening '11 evened his record at 1-1 as he allowed two runs on four hits in 4 2/3 innings. Kroening, who was on a strict pitch count, walked one batter and struck out four.
Prindle scored the first run for Hamilton with his leadoff home run in the second inning. The Continentals added two runs in the third inning. Choate hit a single and stole second and third. Buicko drove him in with a fly out to center, and Augustyn hit a single to drive in the second run of the inning.
In the fourth inning, Vigneau hit a double, and advanced to third on a single by Peters. Choate bunted and was thrown out at first, but scored Vigneau. SUNYIT scored twice in the top of the fifth to make the score 4-2.
The Continentals scored two more runs in the bottom of the fifth. Buicko hit a single to center, stole second and moved to third on a throwing error by the catcher. Buicko scored when Augustyn grounded out to second base. Atwood singled to right center to drive in the Continentals' sixth run.
SUNYIT scored two more runs in the top of the sixth to cut Hamilton's lead to 6-4. The Continentals took control of the game with four runs in both the seventh and eighth innings. In the seventh, Mayberry singled to center and with two outs, Atwood doubled. Vigneau hit a single to drive in two runs. Peters followed with a single, and a double steal put runners on second and third. Choate's double to left drove in Peters and Vigneau, and gave the Continentals a 10-4 lead.
In the bottom of the eighth, Buicko and Augustyn hit back-to-back singles. Atwood was hit by a pitch to load the bases, and Pat Gennaco '11 walked to bring in one run. Augustyn scored on a wild pitch to give Hamilton an eight-run lead. Peters and Michael Matt '11 hit run-scoring singles to stretch Hamilton's lead to 14-4 going into the last inning.

SUNYIT rallied to score four runs in the top of the ninth -- including a three-run pinch-hit homer. John Summa '12 ended the rally with a strikeout and a pop-up to the third baseman in foul territory for the final outs.
The Continentals travel to play a non-conference game against SUNY Brockport on Tuesday, April 13.