Baseball powers past Amherst with four home runs
---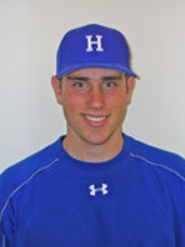 Alex Augustyn '10 drove in four runs on two home runs and a double to lead Hamilton College past visiting Amherst College, 9-3, in a New England Small College Athletic Conference West Division game played at Royce Field on May 2.
The win is Hamilton's 14th this season, which sets a program record. The previous team record of 13 wins was set in 1998. The Continentals split a doubleheader with the Lord Jeffs on April 5. Saturday's victory gave Hamilton its first-ever series win against a NESCAC West Division opponent.
Augustyn finished the day 3-for-3 for Hamilton (14-19 overall, 4-8 NESCAC West). He knocked out a two-run homer in the bottom of the first to erase an early 2-0 deficit.
The 2-2 tie held until the third inning, when Augustyn began a four-run rally with a solo home run to break open the game for the hosts. Wes Mayberry '11 kept the ball rolling with a single to short and Justin Atwood '11 knocked out another home run on the next at-bat for a 5-2 lead. Grady Vigneau '10 added the final run of the rally as he scored on a wild pitch.
Amherst (16-12, 7-4) opened the game with two runs in the first and managed another in the fifth to pull within 5-3. Vigneau homered to right center to lead off the sixth and Augustyn drove in another run with a double in the seventh. He scored the final run on a dropped fly ball in center field off the bat of Atwood.
Dan Kroening '11 picked up his first career win on the mound for the Continentals. Kroening took over for Zak Cohen '09, who allowed two runs in the first. Kroening allowed just one run in four innings. Michael Caruso '12 threw two hitless innings in the sixth and seventh, and Augustyn closed the game with two more scoreless frames. He fanned four of the seven batters he faced to add to his impressive outing.
Gideon Clark '09 and Vigneau finished with two hits apiece as Hamilton ended up with 10 hits in the win. Five went for extra bases, including four home runs.
Hamilton honored its four seniors prior to the game's start -- Clark, Cohen, Jake Saidman '09 and Ryan Calabrese '09. Clark stole the 16th base of his career to break into the top five on Hamilton's all-time list. He is in the top five in career at-bats, runs and hits.
Hamilton will face SUNY Oneonta in a non-conference game at DeLutis Field in Rome, N.Y., on Sunday, May 3.