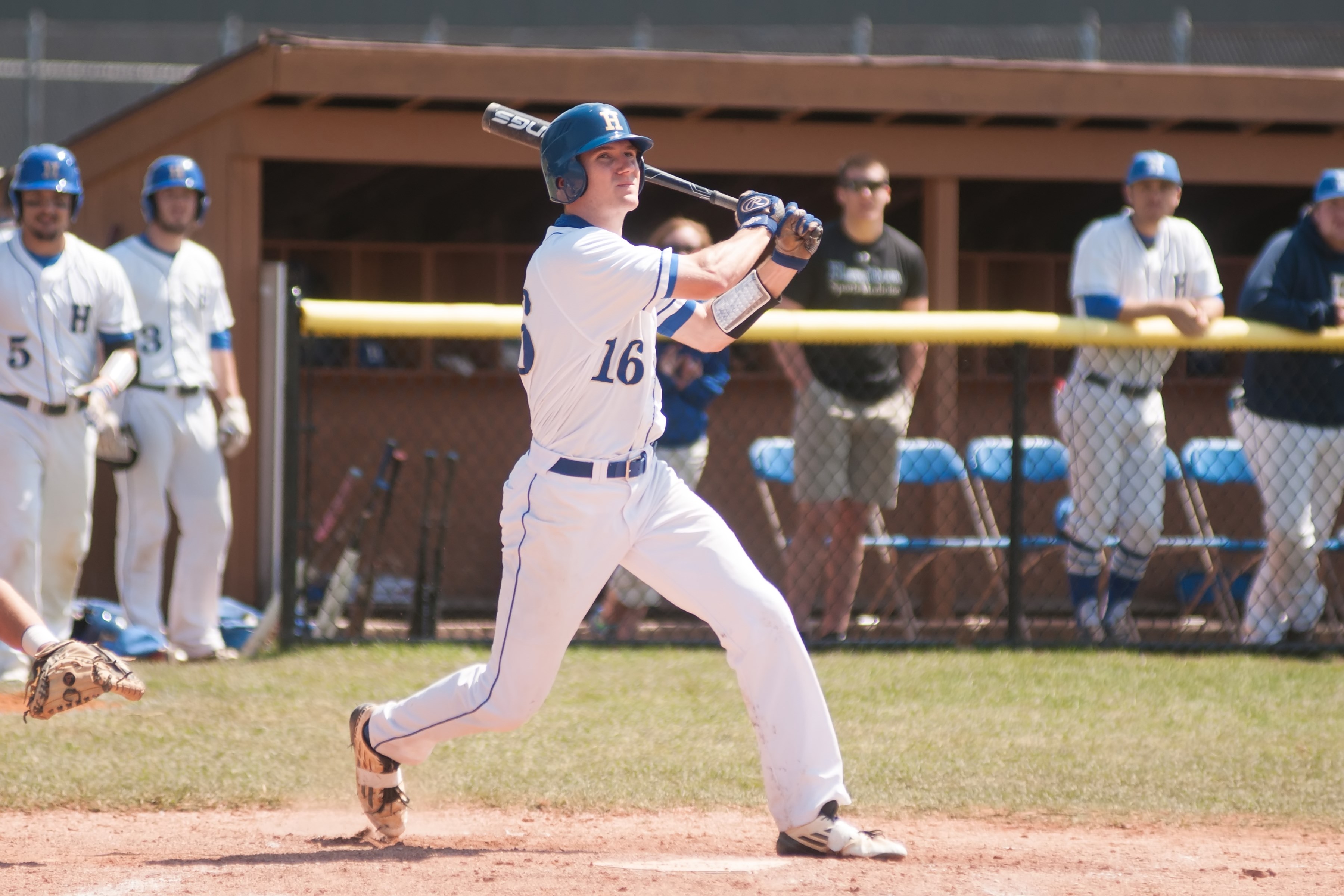 The Hamilton College baseball team swept visiting SUNY Polytechnic on Sunday afternoon at Royce Field, winning 8-0 and 14-3.

Game one box score | Game two box score

The Continentals (16-13 overall) tied the school record for wins in a season and clinched the program's first winning season since 1990.

Hamilton outhit the Wildcats (16-14 and regular-season North Eastern Athletic Conference champions) 27-10 with 11 extra-base hits in the two seven-inning games.

Spencer Vogelbach '18 threw a complete-game one-hit shutout in the opener and Joe Jensen '15 went four-for-four in game two. Jensen finished with five hits on the day, raising his career total to 133 and passing Sam Choate '12 (who had 131 hits between 2009 and 2012) to become Hamilton's all-time leader.

Vogelbach improved to 4-1 on the season and lowered his ERA to 2.25 -- sixth in the NESCAC -- with his first collegiate shutout. He struck out six and didn't walk a batter, retiring 18 of the last 19 SUNY Polytechnic batters after the Wildcats had put their first two runners on base in the second inning.

Tyler Vyce '17 singled through the right side to lead off the inning and Dylan Gorski '15 was hit by a pitch. Vogelbach faced just one batter over the minimum the rest of the way, hitting Gerald Milanes '15 with a pitch to lead off the fourth.

The Continentals scored all eight of their runs in their first two times at bat. Ryan Wolfsberg '17, Kenny Collins '17 and Brett Mele '17 hit run-scoring doubles in the first and Hamilton batted around in the second, scoring five more runs.

Wolfsberg and Andrew Haser '17 drove in the first two runs with singles before Brian Ferrell '16 was hit by a pitch with the bases loaded to force in a run. The hosts scored two more runs on a Wildcat error to close out the game's scoring.

Wolfsberg and Zack Becker '16 both had three of Hamilton's 12 hits. Collins collected a pair of doubles and Jensen and Wolfsberg both scored twice.

In the nightcap 12 Continentals either scored or drove in a run as Hamilton posted a season-high 14 runs. The Continentals' 15 hits and six extra-base hits were both season-best totals for a seven-inning game.

Jensen collected his second career four-hit game before being removed in the fifth inning. He drove in two runs and scored three; Jensen's five runs on the day raised his career total to 89, matching another of Choate's school records.

Wolfsberg drove in a career-best five runs, doubling home a run in the third and adding an RBI single in the fourth before blasting a three-run home run in the fifth. His four home runs this spring lead the team.

Becker posted his second three-for-three performance of the afternoon, highlighted by his second collegiate home run (a solo shot in the fourth).

Haser and Robert Morris '17, who had two hits and two runs batted in, started Hamilton's offensive explosion by driving in first-inning runs. Jensen and Wolfsberg doubled in second-inning runs with Chris Collins '17 adding a sacrifice fly.

Becker's home run kick-started a three-run fourth inning that was capped by Morris' run-scoring double.

An inning later Jensen singled in a run two batters before Wolfsberg's home run to left center. Hamilton's last two runs scored in the sixth on a Wildcat throwing error.

Dominick Galimo '15, Joseph O'Rourke '15 and Vyce each had two hits for SUNY Poly, who has lost five of six to the Continentals over the past three seasons.

Gorski singled in a run in the second and O'Rourke doubled home Andrew Scharra '18 an inning later. A sixth-inning infield error by the Continentals allowed the Wildcats' final run.

Finlay O'Hara '17 earned the win, allowing four hits to improve his record to 2-2. Daniel DePaoli '18 became the fourth Continental to earn a save this year, striking out five batters (one short of his season best) while allowing just an unearned run.

The Continentals finish the season on Wednesday, May 6, hosting Utica College in the 28th playing of the Jackie Robinson Game at Royce Field.

SUNY Poly will host the NEAC Championship tournament Friday through Monday.