Baseball shut out in Wesleyan series finale
---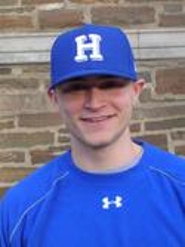 Hamilton College lost 24-0 in the New England Small College Athletic Conference West Division series finale against Wesleyan University at Wesleyan's Dresser Diamond on April 3.

On April 2 at Wesleyan, Hamilton won 12-4 in seven innings, and the Cardinals prevailed 14-5 in nine innings. The Continentals travel to Skidmore College for a non-conference game on Thursday, April 7.

Hamilton (5-12 overall, 1-2 NESCAC West) had seven hits on Sunday. Justin Atwood '11 was 2-for-4 with a double, and pitched a scoreless eighth inning. Wes Mayberry '11 smacked a triple, and Gabe Klein '14 and Joe Buicko '11 both doubled. Kevin Prindle '13 started on the mound and took the loss. Prindle allowed nine runs on nine hits in four innings.

Wesleyan got at least one hit, one run and one RBI from every starter. Joe Giaimo, went 5-for-6 with four doubles, five RBI and one run. Julian Sonnenfeld, Stefan Sundseth and Justin Freres all added three RBI with multiple-hit games.

Wesleyan also got six innings of shutout pitching from Jimmy Hill, making his first career start in his seventh appearance. Hill allowed just three hits and one walk with five strikeouts in lowering his ERA to a team-best 1.83 in 19.1 innings of work. Three relievers each threw one inning to close out the game, and combined for seven strikeouts and four hits allowed.

Wesleyan grabbed a 4-0 lead in the second inning with Giaimo, Chris Bonti, Kyle Weiss and Alex Meadow all driving in a run. The Cardinals scored in five of the final seven innings, with at least four runs in each of the five frames.

A Sonnenfeld two-run double, his 11th two-bagger of the year, highlighted a five-run fourth inning. Freres plated two runs with a double. Six Cardinal hits in the fifth, combined with a pair of Continental errors, contributed to a six-run stanza. Wesleyan added four runs on five hits in the sixth and five runs on four hits in the seventh.