Baseball splits doubleheader with Amherst
---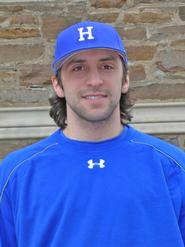 Hamilton College split a New England Small College Athletic Conference West Division baseball doubleheader against Amherst College at Royce Field on April 5.
In the seven-inning opener, Hamilton (9-8 overall, 1-1 NESCAC West) rallied to score five runs in the bottom of the seventh for a 5-4 come-from-behind victory. In the nine-inning nightcap, Amherst (9-8, 2-3) broke a 4-4 tie with two runs in the top of the eighth and went on to a 7-5 win.
The Continentals took Game 1 in dramatic fashion. Justin Atwood '11 led off the final inning with a hard ground ball that bounced off the third baseman and Atwood ended up with a single. After the next batter struck out, Alex Augustyn '10 singled up the middle. Gideon Clark '09 followed with a single to right center to drive in Atwood with the first run. Matt Mancini '10 walked to load the bases and Amherst called for a pitching change.
Pat Gennaco '11 plated Clark and Augustyn with a single to center to make the score 4-3. Gennaco and pinch-runner Jeremy Brenner '10 moved up to second and third base on a wild pitch, and Sam Choate '12 drove them both in with a double over the center fielder's head to end it.
Augustyn and Gennaco finished the game with two hits apiece, and Augustyn whacked his fourth double. Max Foster '10 improved his record to 2-0 with a complete game seven-hitter. Foster walked two and struck out four.
Amherst regrouped to win Game 2. The Lord Jeffs scored single runs in the first, second, third and fifth innings for a 4-0 lead. Hamilton tied the score with four runs in the bottom of the fifth, but Amherst went up again with two runs in the eighth. After the Continentals cut their deficit in half with a run in the bottom of the frame, the Jeffs restored their two-run lead with one in the ninth on two hits.
Choate led the Hamilton offense with three hits, including a three-run homer to left-center field that tied the score in the fifth inning. Wes Mayberry '11 and Mancini collected two hits apiece, and Mayberry laced his seventh double. Starting pitcher Jake Saidman '09 didn't get a decision, but he allowed just three hits and one earned run in seven innings. Saidman walked three and struck out two.
The Continentals travel to SUNY Institute of Technology for a non-conference game on Tuesday, April 7, at 4 p.m.