Baseball splits doubleheader with Colby
---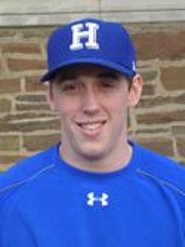 Hamilton College split two games with Colby College at Chain O' Lakes Field in Winter Haven, Fla., on March 22.
In Game 1, the Continentals (2-7 overall) rallied with four runs in the third inning to tie the score at 4-4, and then scored the game-winning run in the bottom of the seventh to earn a 6-5 win. In Game 2, Colby (2-1) edged Hamilton 7-6.
Max Foster '10 started on the mound for Hamilton in the opener. Alex Augustyn '10 came on in relief in the third inning. Michael Caruso '12 came in to pitch in the sixth inning and picked up the win. Augustyn finished with two doubles. Michael Matt '11 drove in two runs.
Colby opened the game with two runs in both the second and third innings. Hamilton tied the score in the bottom of the third and scored one run in the fifth to take a 5-4 lead. The Mules responded with the tying run in the sixth. In the bottom of the seventh, Augustyn hit a two-out double. Sam Fuentes '13 came in to run for Augustyn, and scored the game-winner on a pinch-hit infield single by Kevin Prindle '13.
In the nightcap, Dan Kroening '11 was the starting pitcher for the Continentals and suffered the loss. Eli McCargar '10 came in for Kroening in the second inning and pitched into the sixth. Max Currier '10 finished the sixth inning.
The Continentals started off with two runs in the top of the first. Colby answered with two runs in the bottom of the frame, but Hamilton went up 3-2 in the second. The Mules took the lead for good with three runs in the bottom half and two more in the third to make it 7-3. The Continentals pulled within a run with three in the top of the fifth, but could not plate the tying run.
Wes Mayberry '11 singled, tripled, scored two runs and drove in two. Sam Choate '12 hit a double, Joe Buicko '11 had two hits and scored two runs and Prindle chipped in two singles.
Hamilton will play a doubleheader against the University of Wisconsin-Stout on Tuesday, March 23.