Baseball splits non-conference doubleheader
---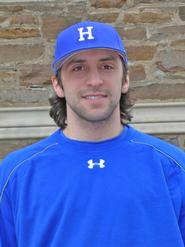 Hamilton College split a non-conference doubleheader with SUNY Institute of Technology at DeLutis Field in Rome, N.Y., on March 30.

Hamilton (4-10 overall) won the second game 6-2 after SUNYIT edged the Continentals 2-1 in the opener. Both games went seven innings. DeLutis Field is the Wildcats' home field in 2011 while SUNYIT renovates its on-campus baseball facility.

In Game 2, the Wildcats scored two unearned runs in the bottom of the first inning off Hamilton starter Kevin Prindle '13, and led 2-1. The Continentals took the lead for good with two runs in the third.

Sam Choate '12 led off the inning with a walk, stole second and went to third on a single to left field by Lukas Bridenbeck '13. Bridenbeck stole second base and Prindle drove in both runners with a single to left.

Hamilton made the score 4-2 in the fourth when Bridenbeck drove in Remy Kartzman '14 with a groundout to shortstop. The Continentals completed the scoring with a pair of two-out runs in the fifth without the benefit of a hit. SUNYIT helped Hamilton with two errors in the inning.

Choate finished 2-for-2 with a double and two runs scored. Bridenbeck and Prindle drove in two runs apiece, and Kartzman scored twice.

Tom Moriarty '14 pitched a scoreless second inning and posted his first win for the Continentals. Dan Kroening '11 allowed no runs on two hits with a walk and four strikeouts in three innings. Michael Affuso '14 allowed one hit and fanned one in a scoreless sixth, and Alex Zeig '14 retired the side in order, including two strikeouts, in the bottom of the seventh.

Game 1 turned out to be a pitcher's duel. The Wildcats finally broke the ice with two runs in the bottom of the sixth inning. Hamilton rallied in the top of the seventh with a hit and two walks.

Kartzman drew a one-out walk, and went to second base on a wild pitch. Rob Castellano '11 walked, and Pat Gennaco '11 drove in Kartzman with a two-out infield single. Joe Buicko '11, who pinch-ran for Castellano, went to third on the play. Buicko was stranded at third when the next hitter popped to short for the final out.

Wes Mayberry '11 went 2-for-3 and Castellano doubled to lead the offense. Mayberry's first hit was the 100th of his Hamilton career. Colin Henneberger '14 started on the mound and allowed no runs on two hits, walked one and struck out four in four innings. Joe Wagner '14 surrendered two runs on three hits in two innings and took the loss.

The Continentals travel to Wesleyan University for a three-game New England Small College Athletic Conference West Division series this weekend. The first game is scheduled for Friday, April 1, and the teams will play a doubleheader on Saturday, April 2.