Baseball splits with Kalamazoo
---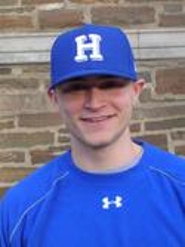 Hamilton College split a non-conference doubleheader with Kalamazoo College at Chain of Lakes Park in Winter Haven, Fla., on March 19.

Hamilton (2-4 overall) won the second game 10-2 after the Continentals fell in 10 innings in the opener, 15-11. Hamilton takes on Benedictine (Ill.) and Union College in Florida on Sunday, March 20.

John Wulf '12 posted his first win with the Continentals with a fine pitching performance in the nightcap. Wulf allowed two runs on nine hits in six innings, walked two and fanned four. Joe Wagner '14 retired the side in order in the bottom of the seventh.

Lukas Bridenbeck '13 singled, tripled and scored three runs in Game 1. Sam Choate '12 went 2-for-3 with two stolen bases, and Remy Kartzman '14 had two hits, scored twice and stole two bases. Gabe Klein '14 drove in two runs.

All the runs were scored in the first three innings. Hamilton grabbed a 2-0 lead in the first when Bridenbeck reached on a fielder's choice, went to third on a double by Kevin Prindle '13 and scored on a fielder's choice off the bat of Klein. Prindle then scored on an error by the third baseman.

After two Kalamazoo runs tied the score in the bottom of the inning, the Continentals took the lead for good with six in the second. Kyle Mason '11 started the inning with a single up the middle, and went to third on Kartzman's single to left center. Mason scored the go-ahead run as he and Kartzman pulled off a double steal. Choate drove in a run with a single, two runs scored on an infield error, Justin Atwood '11 plated a run with a double and Klein made the score 8-2 with a groundout that scored Atwood.

In Hamilton's two-run third, Bridenbeck drove in a run with a triple, and later scored on Prindle's groundout. Eight of the Continentals' nine starters had at least one hit, and Hamilton finished the game with 13.

Kalamazoo (3-1) scored four runs in the top of the 10th and held on to win a wild opener. The Continentals trailed 8-3 after three innings, but exploded for six runs in the fourth to take a 9-8 lead. Kalamazoo went back in front 11-9 with three runs in the fifth before Hamilton sent the game to extra innings with two in the sixth.

The Continentals had just nine hits, but took advantage of six walks and five Kalamazoo errors to score the 11 runs. Bridenbeck had three hits, and Atwood singled, doubled and drove in three runs. Klein singled, tripled and plated two runs, and Prindle also drove in two.

Dan Kroening '11 allowed one earned run in the 10th and was saddled with the loss. Michael Affuso '14 was effective in relief as he allowed no runs on four hits in four innings.

Atwood's two-RBI single was the big hit in Hamilton's six run fourth inning. In the sixth, Atwood drove in a run with a double, and Bridenbeck tied the score at 11-11 with a single through the right side that scored Atwood.