Baseball sweeps doubleheader against SUNY Cobleskill
---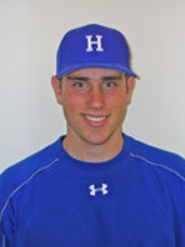 Alex Augustyn '10 pitched his first career shutout, and Hamilton College swept a non-conference doubleheader against SUNY Cobleskill by scores of 7-0 and 6-4 at Hamilton's Royce Field on March 28.
Augustyn allowed five singles and one walk while striking out five in seven innings. He allowed just one runner to reach third base. Joe Buicko '11 led the Continentals (5-9 overall) at the plate in the opener with two doubles and two RBI. Wes Mayberry '11 doubled and scored a run and Sam Choate '12 tripled and scored. Grady Vigneau '10 drove in two runs and Dan Peters '13 scored twice.
Choate tripled in the third inning, and Vigneau hit a sacrifice fly to center to drive in the run. The Continentals added five more runs in the fourth inning. Mayberry opened the inning with a double and later scored on a wild pitch. Augustyn and Peters both walked and scored a run in the inning. Buicko doubled and drove in two runs. Hamilton added one more run in the fifth for the final margin.
In Game 2, Max Foster '10 started on the mound and did not allow Cobleskill (1-10) to score any runs in 3 2/3 innings. Foster was limited to about 60 pitches and picked up the win. He allowed three hits, walked two and struck out two. Dan Kroening '11 and Andrew Perkowski '10 combined to toss 2 1/3 scoreless innings in relief.
Hamilton took a 2-0 lead in the second inning. Vigneau walked and Peters followed with a single to right field that advanced Vigneau to third. Peters stole second base and then Kevin Prindle '13 hit a double down the left field line to drive in the two runs.

In the fourth inning, Choate hit a double down the left field line and advanced to third on a wild pitch. Prindle walked and Choate then scored on a wild pitch to put the Continentals ahead 3-0.
In the bottom of the sixth, Hamilton added three insurance runs on three hits. Buicko's two-run double to left field was the big blow in the inning. As it turned out, Hamilton needed most of those runs in the sixth, because Cobleskill rallied with four runs in the top of the seventh.
Reliever Max Currier '10 came on in the seventh for the Continentals and recorded two outs, but allowed all four runs on two hits and four walks. Stephen Wright '12 came in to face one Cobleskill batter and got him to fly out to right field to end the game with the tying run on first base. Wright picked up his first save for Hamilton.
The Continentals return to action on Friday, April 2, when they travel to Amherst College for the New England Small College Athletic Conference West Division opener.