Baseball swept by Bowdoin
---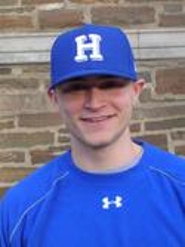 Bowdoin College rallied with three runs in the bottom of the seventh inning to win the opener, and scored 18 runs in the nightcap en route to a doubleheader sweep of Hamilton College at Lake Myrtle Field in Auburndale, Fla., on March 16.
Hamilton (1-3 overall) was edged 5-4 in the first game, and lost the second 18-0. Both teams are in the New England Small College Athletic Conference, but the Continentals play in the West division and Bowdoin is in the East.
Dan Kroening '11 started Game 1 on the mound for the Continentals. Alex Augustyn '10 pitched the fifth inning, Max Currier '10 came in for the sixth and pitched into the seventh, and Kevin Prindle '13 relieved Currier.
Bowdoin (5-1) struck first with a run in the bottom of the second. Hamilton tied the score in the top of the fourth, and grabbed the lead with another run in the top of the fifth. The Polar Bears responded with a run to tie the score 2-2 in the bottom half. The Continentals went ahead again with two runs in the sixth inning. Bowdoin scored three runs in the bottom of the seventh to come away with the win.
Sam Choate '12 hit a double and a single. Justin Atwood '11 had two hits, scored two runs and stole two bases. Wes Mayberry '11 and Grady Vigneau '10 had two hits apiece, and Pat Gennaco '11 drove in two runs.
In the second game, Bowdoin scored two runs in the first inning and added eight in the second frame to take control early. Max Foster '10 started on the mound in a rehab assignment and was limited to a maximum of 20 pitches. Michael Caruso '12, Nzaba Fonseca-Sabune '12 and Prindle also appeared on the mound. Joe Buicko '11 hit a double for Hamilton's lone hit. The Continentals were credited with eight errors.
The Continentals play the University of Massachusetts-Boston on Wednesday, March 17.