Baseball swept in first games of 2011
---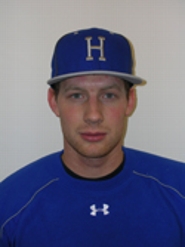 Hamilton College lost a pair of non-conference games against Massachusetts College of Liberal Arts at Chain of Lakes Park in Winter Haven, Fla., on March 16.

MCLA (4-3 overall) exploded for eight runs in the bottom of the fourth inning of the opener, and cruised to a 13-1 win in five innings. The Trailblazers edged Hamilton 3-2 in the second game.

In Game 1, Justin Atwood '11 accounted for the Continentals' offense with his eighth home run at Hamilton in the second inning. Lukas Bridenbeck '13 also singled. Dan Kroening '11 pitched the first three-plus innings and took the loss.

Kevin Prindle '13 pitched well for Hamilton in the nightcap. Prindle tossed a complete game as he allowed seven hits, walked one and struck out seven in seven innings.

Pat Gennaco '11 led the offense with two hits, including a double. Bridenbeck added two hits, and Atwood and Sam Choate '12 both doubled.

The Continentals (0-2) grabbed a 1-0 lead in the bottom of the second. Bridenbeck singled with one out and Choate followed with a double to put runners at second and third. John Wulf '12 drove in Bridenbeck with a grounder to third.

MCLA tied the score with a single run in the next frame, and took the lead for good with two runs in the fourth. Hamilton responded with a run in the bottom of the inning.

Atwood led off with a double and advanced to third on Bridenbeck's ground ball to the pitcher. Choate then flew out to center field to drive in Atwood. The Continentals had just two base runners in the last three innings.

Hamilton plays a doubleheader with Franklin & Marshall College at Southeastern University in Lakeland, Fla., on Thursday, March 17. The first pitch is scheduled for 12:30 p.m.