Baseball tripped up at Skidmore
---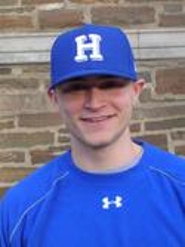 Three Skidmore College pitchers combined on a five-hitter to lead the Thoroughbreds to a 4-1 win against Hamilton College in a non-conference game at Skidmore's Castle Diamond on April 7.

Hamilton (5-13 overall) grabbed a 1-0 lead in the top of the fourth inning on a towering, two-out home run by Justin Atwood '11. That run was the only one the Continentals could muster off Jordan Keysor, Zack Rudman and Chris Aulet.

Skidmore (11-5) rebounded with three runs in the bottom of the fourth, and added a single run in the sixth. Keysor allowed one run in the first four innings and improved his record to 2-1. Rudman allowed just one hit in four innings of relief work, and Aulet pitched a scoreless ninth to pick up his second save.

Nobody had more than one hit for the Thoroughbreds. Skidmore scored three runs on four consecutive hits in the bottom of the fourth. In his second career at bat, Rob Safir tripled to right, and then scored on a wild throw by the right fielder. Rubenstein singled and later scored on Rudman's double. Eric Watkins plated Rudman with a single.

The Thoroughbreds scored their final run in the sixth. Rubenstein walked, advanced to second on an infield out and scored on a single by Alex Barber.

For Hamilton, Sam Choate '12 went 2-for-4, and Dan Kroening '11 pitched a complete game. Kroening allowed four runs on eight hits, walked four and struck out three in eight innings.

Atwood has both of the team's home runs this year, and is tied for fourth on the program's all-time list with nine. Wes Mayberry '11 and Lukas Bridenbeck '13 added one single apiece.

The Continentals travel to SUNY Cobleskill for another non-conference game on Friday, April 8.