Baseball wins pitching duel at home
---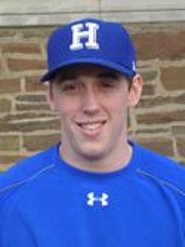 Kevin Prindle '13 pitched a complete game six-hitter to lead Hamilton College to a 3-1 win against College of Mount Saint Vincent in a non-conference game at Hamilton's Royce Field on April 10.

Prindle (1-2) was just two outs away from his first shutout with the Continentals. He allowed one run in the ninth inning, struck out five and walked one. The win is Prindle's first at Hamilton, and he lowered his earned run average to 5.20. He has 20 strikeouts and just four walks in 27.2 innings of work this year.

At the plate, Joe Buicko '11 doubled, tripled, drove in two runs and scored the third for the Continentals. Buicko's fifth double of the year in the first inning was the 100th hit of his Hamilton career. He leads the team with a .351 batting average.

Wes Mayberry '11 singled and hit his fourth double for the Continentals. Sam Choate '12, Lukas Bridenbeck '13 and Mike Matt '11 added one hit each. Gabe Klein '13 drew three walks and scored a run. Hamilton was playing its home opener.

Six players had one single each for Mount Saint Vincent. Designated hitter/pitcher James Labartino '11 drove in his 18th run. Matt Calandrillo '12 started on the mound and pitched 5.1 innings. Calandrillo (1-3) allowed two runs on three hits, walked five and fanned one. Labartino relieved Calandrillo in the sixth and allowed one run on four hits in 2.2 innings.

Hamilton (7-13 overall) struck right away for two runs in the bottom of the first inning. Choate led off with a single through the left side, Klein walked and Buicko boomed a double to left center that scored both runners. Buicko made the score 3-0 in the eighth when his sharp one-out hit to left took a bad hop and escaped the left fielder. Buicko made it to third and then jogged home after a wild relay throw bounced out of play.

The Dolphins (12-16) didn't have a base runner until the top of the fourth inning, and had just one runner advance past first base in the first eight innings. They finally mounted a rally against Prindle in the ninth. Josh Sharpe '14 lined a single to right field and stole second base. Sharpe went to third on a single to center by pinch-hitter John McManus '11 that Matt dove for but couldn't come up with the catch.

Labartino drove in Sharpe with a ground ball to short that forced McManus out at second base. Labartino was then thrown out by Bridenbeck trying to steal second. After Mike Pope '11 walked, Fernando Suriel '11 represented the tying run at the plate. However, Prindle got Suriel to fly out to center to end the game.

The Continentals host Utica College for the 24th playing of the Jackie Robinson Game on Wednesday, April 13.