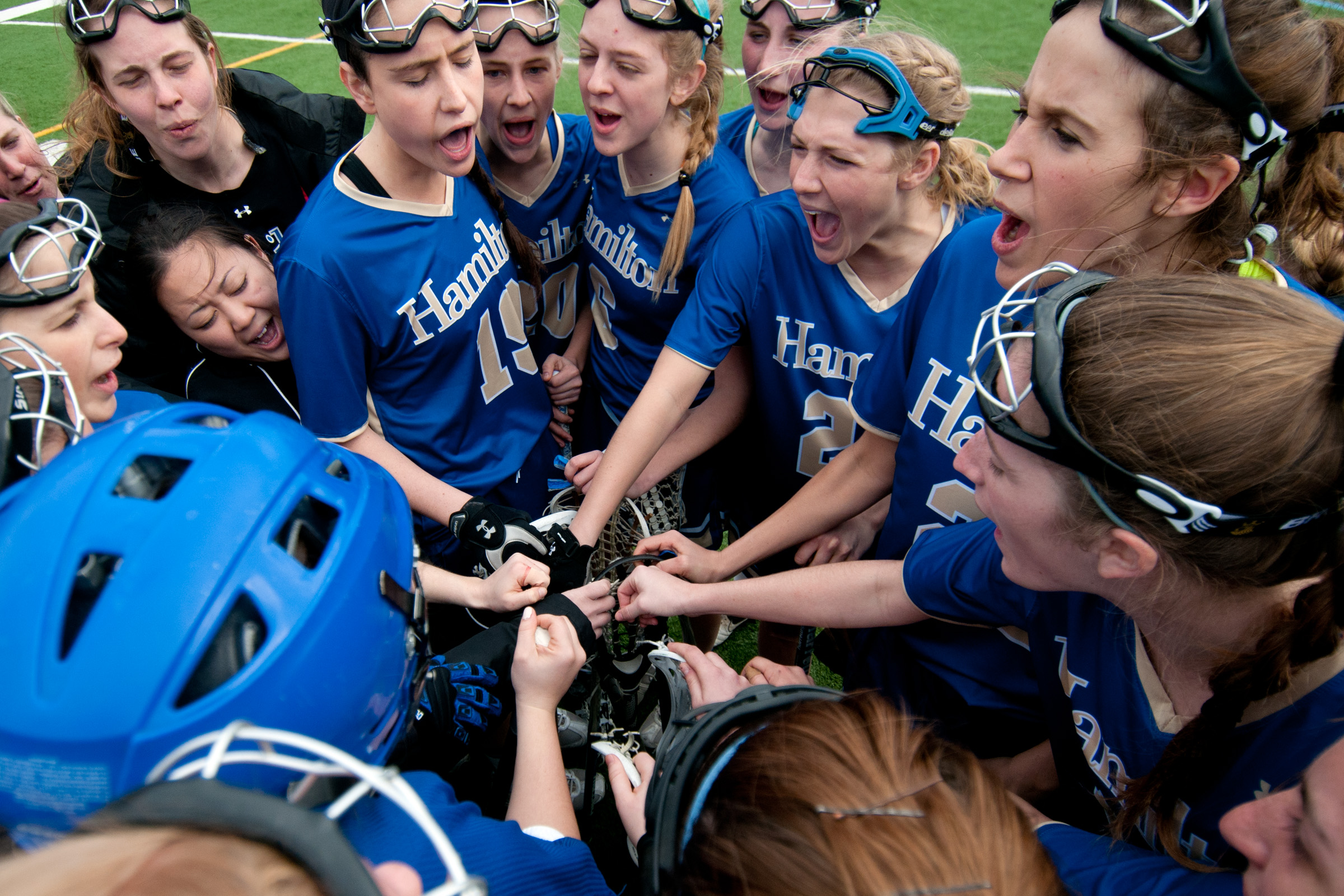 Bates College's Blair Shrewsbury '14 scored five goals and the nationally ranked No. 16 Bobcats doubled up the No. 20 Hamilton College Continentals 12-6 in a NESCAC game at Bates' Garcelon Field on Saturday afternoon.

Box score
The Bobcats (7-3, 3-2 NESCAC) outscored the Continentals 7-2 in the second half and tallied 10 of the game's last 12 goals.

Four straight goals gave Hamilton a 4-2 lead 17:20 into the first half after the Bobcats had taken a 2-0 lead, including a score just five seconds into play. Ashleigh Stephan '15 got the Continentals on the board on a give-and-go from Stephan to Emily Brodsky '14 and back to Stephan.

Katie D'Antonio '14 scored the tying and go-ahead goals for Hamilton. D'Antonio got a step on her defender and Lauren Brady '14 hit her in stride for an uncontested shot on the left side that tied the score. D'Antonio got a step on her defender again and found a shooting lane from the top of the circle to make it 3-2. She raised her season total to a team-leading 13 goals and her career mark to 99. She's a goal away from becoming the 17th Hamilton women's player to reach 100.

After Casey File '17 gave Hamilton (4-4, 1-4) its biggest lead with 13:40 left in the half, Shrewsbury answered for Bates 21 seconds later with the first of her career-high five goals. Goals by Bridget Meedzan '14, who matched a career high with three, and Cara Cappellini '16 gave the Bobcats a 5-4 lead at the break.

Cappellini fed Moriah Greenstein '16 for a goal on Bates' first possession of the second half and the teams alternated scores during the next six minutes. Hamilton's Taylor Ryan '17 scored her fifth goal of the year and Margaret Gabriel '16 picked up her 11th, sandwiched around Meedzan's third goal of the game.

The Bobcats held Hamilton scoreless over the final 21:59, with Hannah Jeffrey '16 making eight of her 14 saves in that span. Jeffery and Wally Pierce '14 picked up four ground balls apiece to lead Bates.

Greenstein finished with a goal and three assists and Pierce contributed two goals, two assists, two caused turnovers and three draw controls. SooHee Yoon '14 won a team-high four draws for the Bobcats.

Brodsky assisted on two Hamilton goals. File led all players with five draw controls and Gabriel won four more. Stephan matched a career high with three caused turnovers and Kari Koga '15 made five saves.

Both teams play at nationally ranked conference opponents on Wednesday, April 2. The Continentals are at No. 3 Middlebury College and Bates visits No. 18 Bowdoin College.