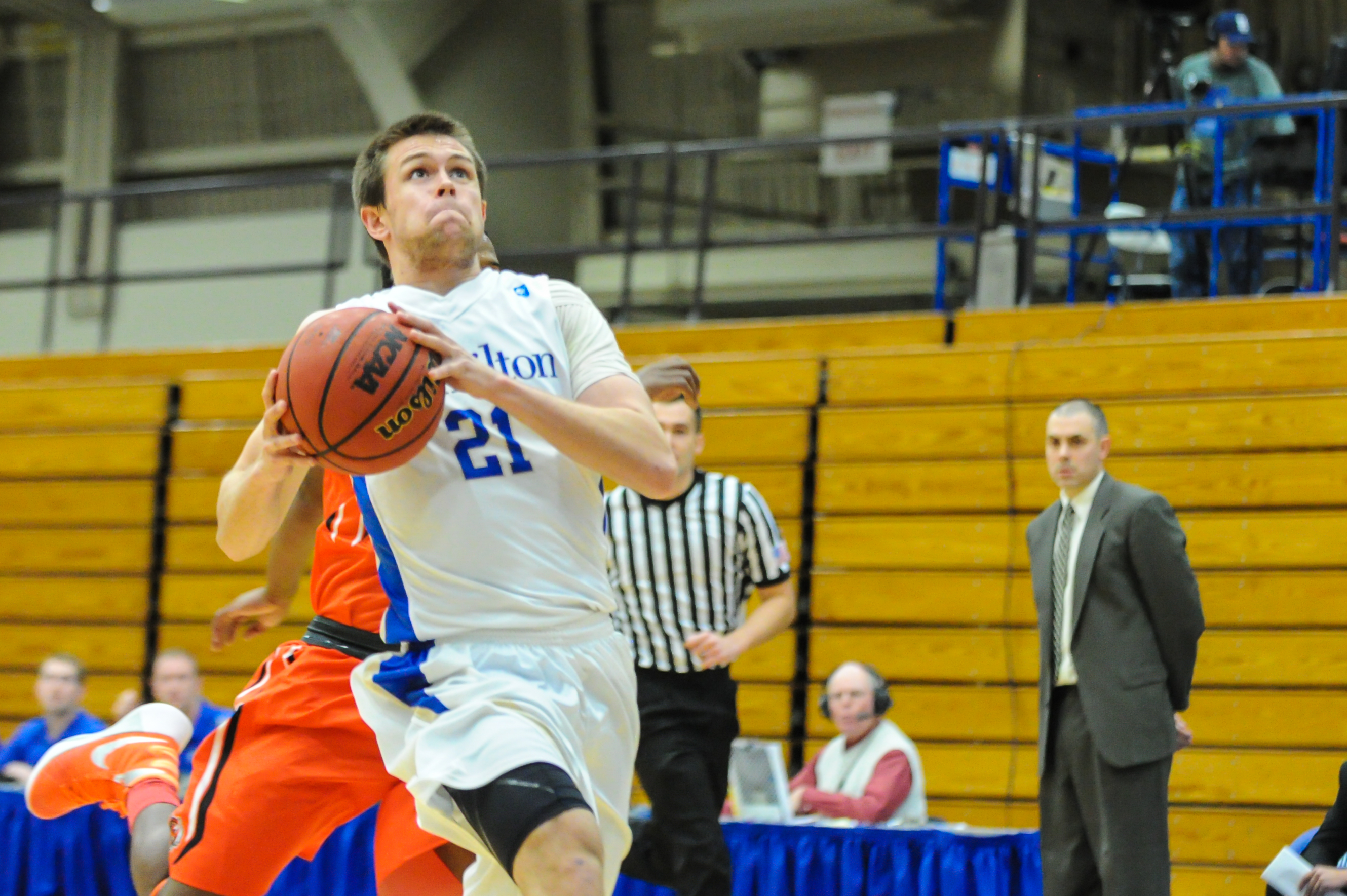 The Hamilton College men's basketball team used a big second-half rally to pick up a 74-65 non-league win at SUNY Polytechnic Wednesday.

Box Score

The Continentals (4-2 overall), who trailed by six points at the half, came out of intermission with a 17-7 run then held on as the Wildcats pulled to within two points.

Hamilton, winners for the third time in four games, took the lead for good on a pair of free throws by Joe Pucci '18 midway through the second half, then clamped down on the Wildcats after the hosts closed to 58-56 with 4:01 left. The Continentals forced three turnovers and held SUNY Poly (1-3) without a basket for nearly three minutes while pushing their lead back up to a dozen points.

Peter Hoffmann '19 led Hamilton with 18 points (one short of his season high) and the Continentals' reserves outscored their Wildcat counterparts 32-15, led by 11 points from Kyle Pitman '17.

The Wildcats were led by Quayshaun Mitchell, who finished with a game-high 22 points, including six during a 16-2 run that gave SUNY Poly a 30-19 lead late in the first half.

Hamilton made 31 free throws, going to the line 39 times (both figures were season-best totals). The Continentals made 15 straight during a nine-minute stretch of the second half before missing their penultimate attempt with 12 seconds left.

Karl Koster '18 led all players with a career-best nine rebounds and Andrew Groll '19 pulled down eight, helping Hamilton to a 42-29 advantage on the boards.

Jack Dwyer '18 contributed nine points and five assists. Jack Donnelly '16 and Kelan McConnell '18 came off the bench to score a combined 13 points in just 21 minutes.

The Continentals held an early 11-4 lead after each of their five starters made a basket in the game's first five minutes. Peyton Griffiths and Tyler Taverne – who finished with 10 points – spearheaded a Wildcat run that brought the hosts to within 17-14.

Hamilton is now 30-2 against the Wildcats, winning the last six contests.

The Continentals continue non-league play Saturday with a 4 p.m. game at Vassar.