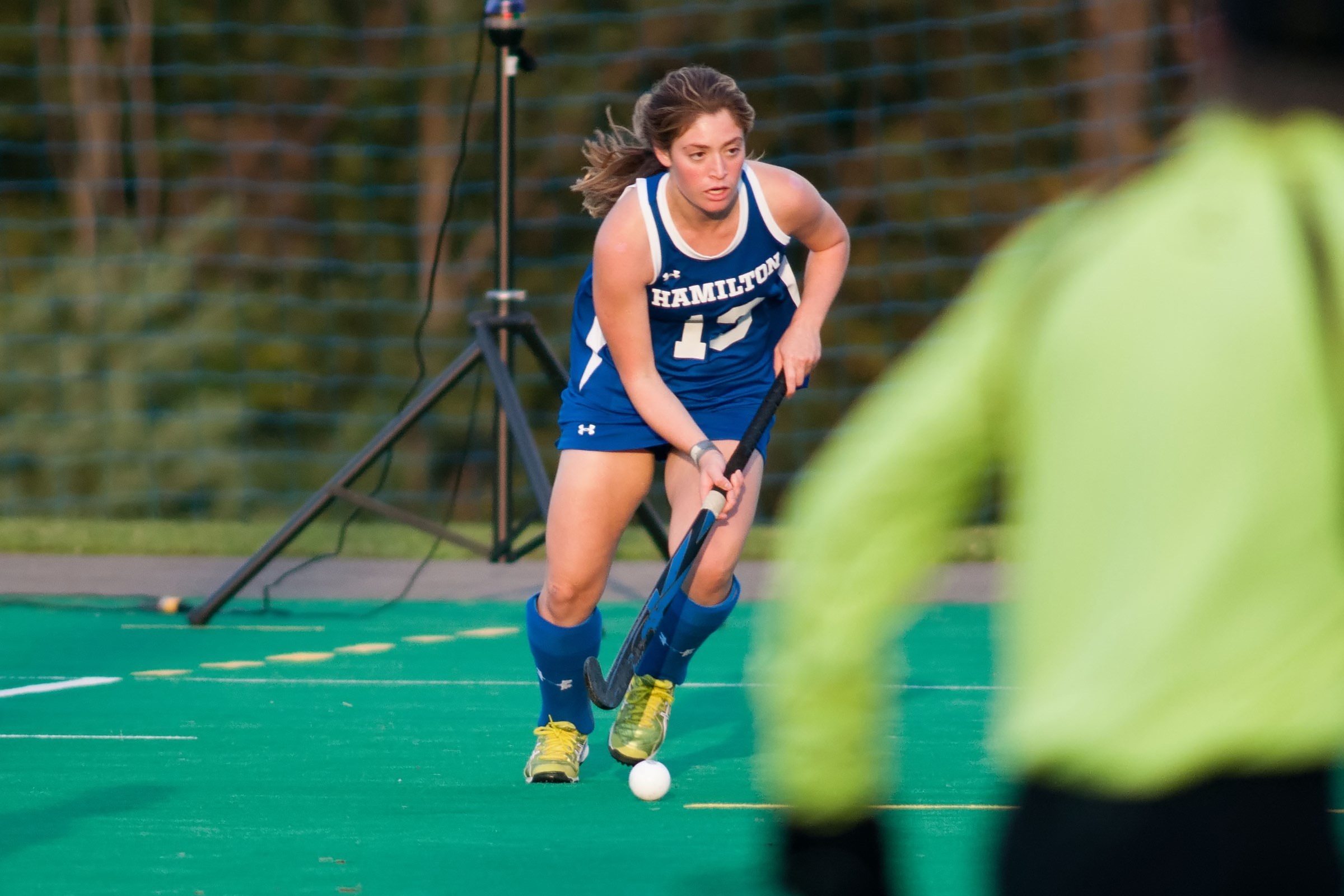 The Hamilton College field hockey team remained unbeaten with a 4-2 non-conference win at SUNY Oswego Tuesday evening. The Continentals improved to 3-0 on the year behind three goals by Eva Rosencrans '17.

Box score

Rosencrans recorded her third career hat trick -- including her second straight against the Lakers -- and moved into third on the program's career goal list.

Hamilton is off to a 3-0 start for the first time in over 20 years. The Continentals have outscored their opponents 7-3 so far this fall.

Rosencrans scored both first-half goals for the visitors and completed the hat trick with a goal in the 56th minute. She opened the scoring in the 23rd minute, centering a two-on-three rush and beating the charging goaltender with a high shot to the right side. Six minutes later she converted her fifth career penalty stroke to put Hamilton up 2-0.

Her two first-half goals raised Rosencrans' career total to 27, moving her past former teammate Nikki Haskins '14 for third on Hamilton's all-time list.

Aubrey Coon '16 opened the second half scoring 10:39 into the period, taking a pass from Merisa Dion '17 in the middle and beating Oswego's Grace Lombardi with a low shot. Coon's goal was her first this season and the seventh of her career. Dion notched her first point of the year with the assist.

Rosencrans closed out Hamilton's scoring by capitalizing on a turnover. She stole a pass, drove toward the net and deked Lombard to pick up her third goal of the game.

Rosencrans now has 58 career points; she'll move into the program's top five with two more.

Mary Kalb '19 earned the win in goal for Hamilton, picking up one save in her collegiate debut. The Continentals outshot Oswego 26-7.

Maddie Nelson put Oswego (0-4) on the board just 22 seconds before halftime as the Lakers turned one of their five penalty corners into a goal. Lisa O'Callaghan received the corner and fired a shot that Kalb saved but Nelson cleaned up the rebound to send Oswego into intermission trailing 2-1.

Emily Lange scored the game's final goal, receiving the ball in the middle of the arc and chipping it over a pair of Continentals, including Kalb.

Lombard made six saves before being replaced midway through the second half.

The Continentals return to conference play Saturday with an 11 a.m. game at NESCAC rival Trinity. The Bantams are ranked 19th in this week's national coaches poll.