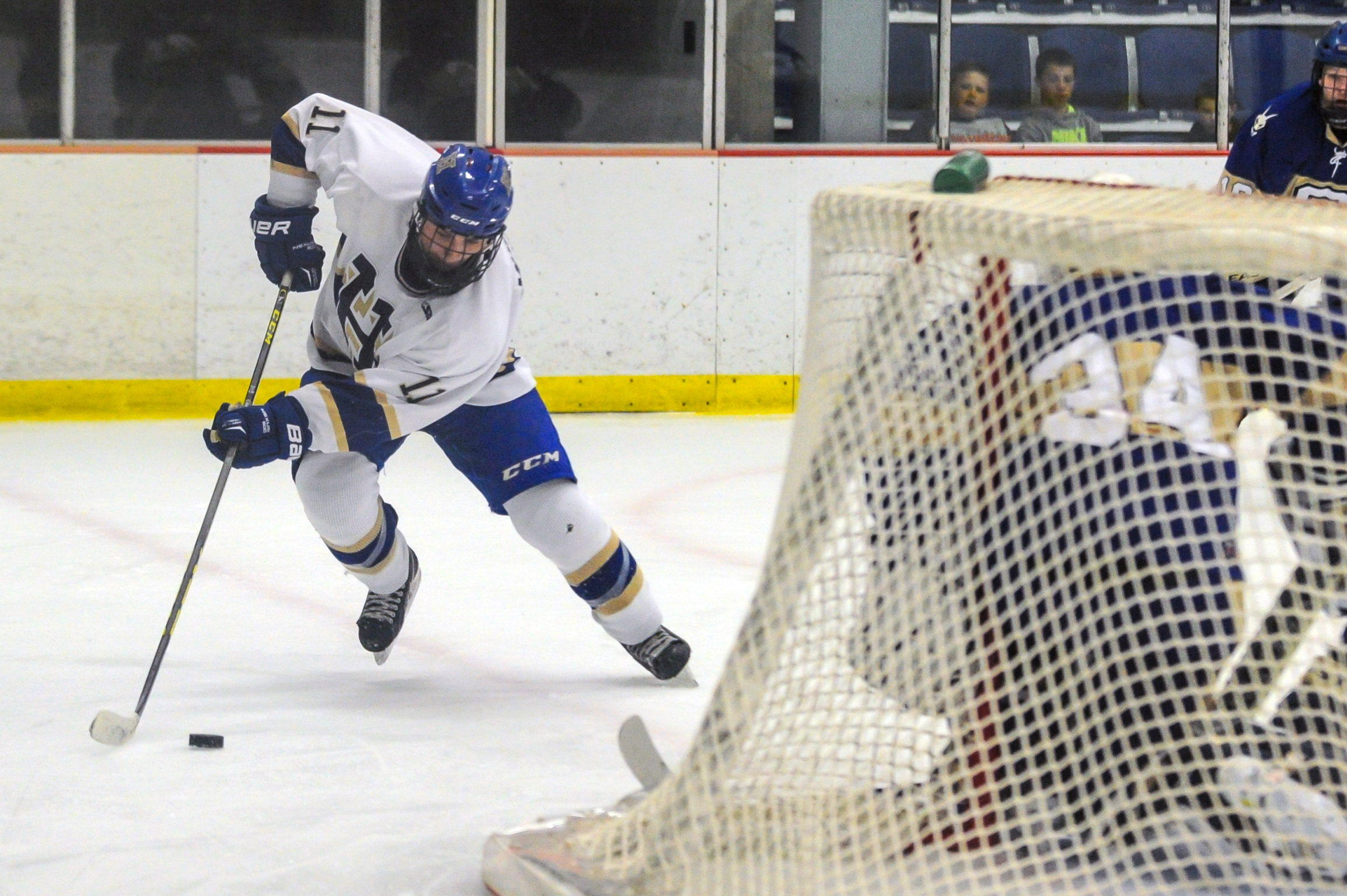 The Hamilton College men's hockey team stretched its unbeaten streak to five games, completing a weekend sweep of Skidmore with a 3-1 win Saturday in Saratoga Springs.

Box score

The Continentals improved to 6-3-1, giving them their best record through 10 games since the 2003-04 team. The Thoroughbreds dropped to 2-10-1 with the loss.

Hamilton's five-game unbeaten streak (4-0-1) is the program's longest since the 2010-11 team closed the regular season on a 6-0-2 stretch.

The Continental special teams excelled as Hamilton's penalty kill unit remained atop Division III's rankings and Robbie Murden '17 scored a pair of power-play goals.

Jon Stickel '19 had the game-winner -- his second this winter -- breaking a 1-1 tie with 88 seconds remaining in the second period.

Stickel's goal made a winner of goaltender Evan Buitenhuis '18, who made 16 saves after entering the game midway through the second period following an injury to starter Tim Nowacki '18. Nowacki made 14 stops.

Buitenhuis now ranks second nationally in save percentage (.961) and fourth in goals-against average (1.40).

Murden collected the game's first goal seven minutes into the first, scoring just 18 seconds into Hamilton's first power-play opportunity. Brad Smelstor '17 assisted on the goal.

Murden provided the visitors with an insurance goal 4:11 into the third period, notching his eighth goal of the season just seven seconds before a Thoroughbred penalty was set to expire.

Hamilton's leading scorer (8-5=13), Murden raised his career total to 69 points (34-35=69) in 57 games.

Tyler Lovejoy '16 and Brandon Willett '18 assisted on Murden's second goal. Lovejoy also assisted on the game-winning goal after scoring the game winner in Friday's victory over Skidmore. His six assists on the season lead the team.

The Continentals converted four of 10 power-play opportunities over the two-game series (they'd scored on four of 31 tries in their first eight games).

Their penalty kill stopped all four Skidmore attempts, making Hamilton 39 of 41 (95.1 percent) on the year.

For the second game in a row, Anthony Bird scored Skidmore's only goal with linemates Marc Cibelli and Adam Moodie picking up assists. Bird's seventh goal this season tied the score at 11:52 of the first period.

Hamilton returns to NESCAC play next weekend, traveling to Maine for games against Colby and Bowdoin. The Continentals play at Colby Friday at 7 p.m.