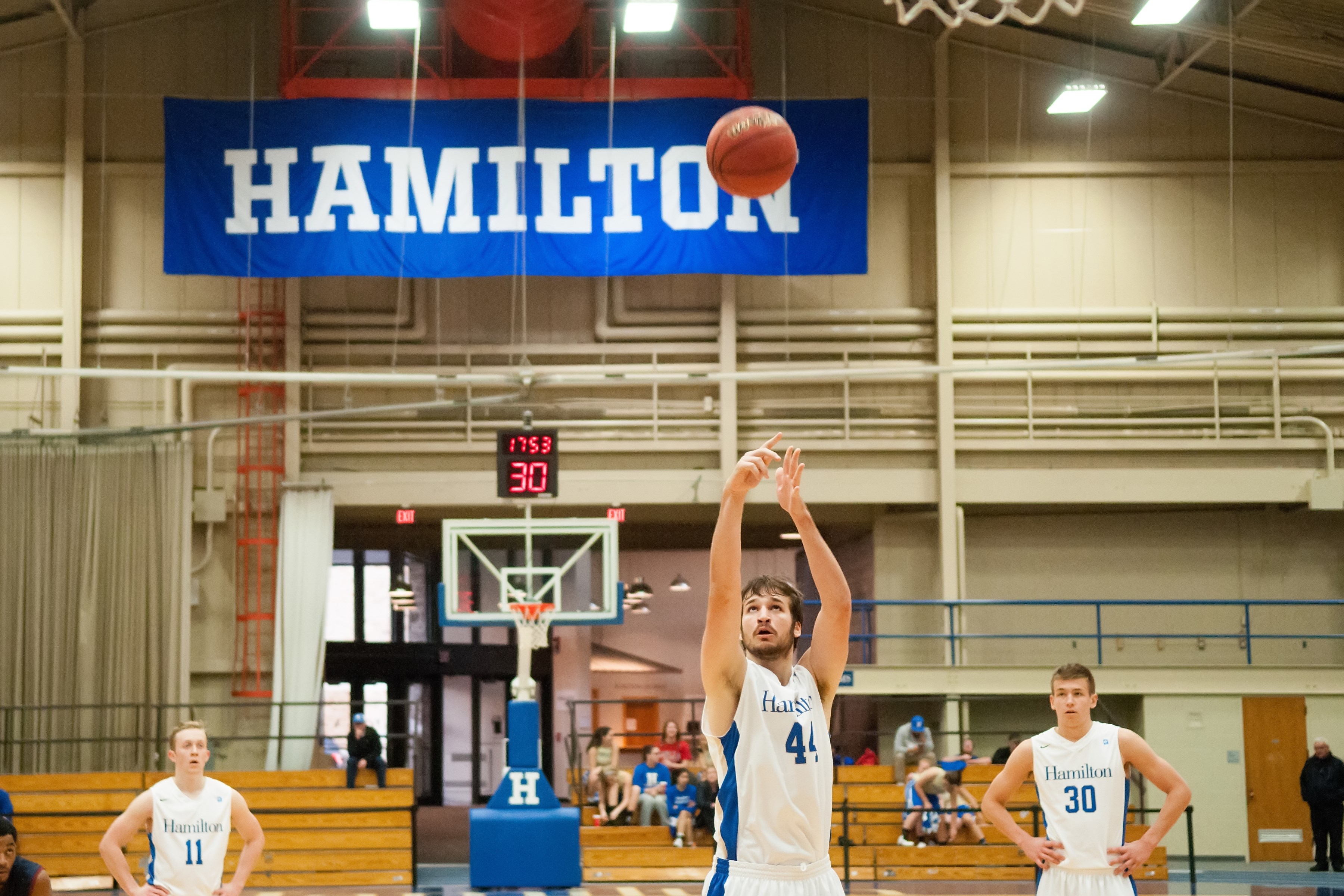 The Hamilton College men's basketball team won its third home game in four tries, rolling to an 80-65 non-league victory over visiting Hobart Thursday at Margaret Bundy Scott Field House.

Box score

The Continentals (5-3 overall) made 12 three-point baskets, converting on 63.2 percent of their long-range attempts; both figures were season bests.

Jack Donnelly '16 scored a season-high 20 points and Andrew Groll '19 recorded his first collegiate double-double, finishing with 19 points and 14 rebounds.

The Statesmen (4-4), who've lost four of their last five, held a four-point lead nearly seven minutes into the second half before Hamilton took control of the game with a 23-4 run that included 14 straight points.

The Continentals made four of their three-point baskets during that decisive stretch, with Donnelly connecting on two of them. His second put an exclamation point on the streak, giving the hosts a 67-52 advantage with 6:40 left.

Hamilton's shooting percentage from three-point range was the program's highest since making 12 of 17 (70.6 percent) in a win over Vassar on Dec. 10, 2011.

Hobart's Colin Dougherty led all scorers with 23 points. He made all nine of his free-throw attempts as the Statesmen went 16-for-20 from the line. Jamal Lucas added 11 points.

Donnelly's 20-point outburst included six three-point baskets in eight tries. He contributed four rebounds and four assists and didn't turn the ball over.

Jack Dwyer '18 finished with 12 points and eight assists (one short of his career high). Peter Hoffmann '19 scored 16 points and Kyle Pitman '17 came off the bench to add 11.

Hobart built its second-half lead while holding the Continentals scoreless for nearly three minutes. Trailing 44-40, the Statesmen scored the next eight points. Sean McKinless made a three-point basket and Cort Williams made a traditional three-point play to go up 48-44 with 13:07 left to play.

The Continentals outrebounded the visitors 39-25. Wes Wilbur '17 added eight rebounds off the bench.

In the first half, Dougherty made a layup and added the free throw, then hit two free throws on Hobart's next possession to put the Statesmen up 15-10 8:01 in. Five lead changes later they went up by six when Pete Drescher stole a pass at midcourt and fed McKinless for a three-point basket that pushed Hobart's lead to 26-20 5:34 before intermission.

Hamilton responded with a 15-1 run (Donnelly netted five; Groll made three free throws and corralled six of his rebounds in that stretch). The run ended with a long three-point basket by Pitman from the top of the key; the Continentals nearly lost the ball on a shot-clock violation, missing a long jumper and a layup but Wilbur rebounded the last miss and kicked the ball back out to Pitman.

The win was Hamilton's third in a row over their former Liberty League rivals. The Continentals lead the all-time series 96-55.

The Continentals close out the first semester portion of their schedule Saturday, hosting Bard in a 4 p.m. game.