BioBlitz Will Record Species in Utica Marsh
---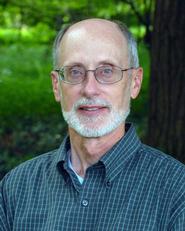 In mid-sentence, Professor of Biology Ernest Williams interrupted his thought to comment on a bird that caught his eye: "Oh, there's a yellow warbler – male, yellowy, with chestnut stripe on the breast," he observed. Seeing Williams in his element is like reading an interactive encyclopedia – Williams talks animatedly about nature and the creatures that inhabit it, such as painted turtles, blue herons and Canada geese. He is conducting what is called a "BioBlitz" this summer with Carly Andrascik '11, an environmental studies major.
A BioBlitz is a one-day intensive survey of all living organisms in an area, and in this case, Williams and Andrascik have chosen Utica Marsh as their location. The purpose of a BioBlitz is to educate the community on such issues as biodiversity and the interactions that take place between civilization and nature. The general public is invited to come watch the undertaking from 10 a.m. to 3 p.m. on Saturday, June 27.
Community members are also welcome to assist in any way they can. While Williams and Andrascik have arranged to have experts attend the event from such institutions as Utica College, Colgate University, and the New York State Department of Environmental Conservation, they say that they need as much help as possible in order to document all of the living species they can find. Doing so will allow them to formulate a baseline for management of Utica Marsh.
The Utica Marsh is an urban wetland of 213 acres. It borders the Mohawk River and the New York Barge Canal, and the organisms that reside there take advantage of a lush mixture of cattail wetlands, meadows, swampy pools of water, and flooded willows. Because some of these creatures may be unidentifiable, and neither professor nor student is too sure of what they will find, they will send some samples to the state museum for further examination.
Part of the objective of BioBlitz is to familiarize people with the Marsh. Because it's tucked away from the main road, it is probable that some people living in Utica would drive to the nearby Wal-Mart, partially or totally ignorant of the wildlife thriving just around the corner. Therefore, Andrascik says that they want to promote environmental education through this project.
This is primarily what makes Andrascik's work qualify for an Emerson Grant, rather than a science grant. She spends much of her time communicating with local schools and organizations. This community focus allows the researchers to leave an imprint on Utica's knowledge of its surroundings; adults and children alike can marvel at the discovery that a simple trail in a forest may contain thousands of microscopic worlds.
Andrascik said that sponsoring a BioBlitz in an urban area has a lot to offer, especially since such studies have cropped up in other areas of the country.
"It's not a trademark," she said. "It's a concept." By gathering together for a BioBlitz, Hamilton students have joined the ranks of such prominent institutions as National Geographic, which has already conducted several at reservations and state parks. The urban setting will be a very different approach.
Williams is proud of the effort and says that he wanted to make it happen.

"For things to happen, somebody's got to make it happen," he said.