Mountaineering Writer Bernadette McDonald to Lecture
---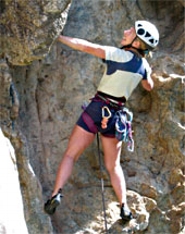 Mountaineering writer Bernadette McDonald will speak on the topic "Writing a Life: Himalayan Heroes," on Tuesday, Nov. 9, at 7:30 p.m. in the Red Pit, Kirner-Johnson Building. The event is free and open to the public. A book sale and signing will follow McDonald's presentation.
McDonald is the prize-winning author of I'll Call you in Kathmandu: The Elizabeth Hawley Story (2005), Brotherhood of the Rope: The Biography of Charles Houston (2007), and Tomaz Humar (2008), and co-editor of Voices from the Summit: The World's Great Mountaineers on the Future of Climbing (2000). She served for two decades as director of the Banff Mountain Film Festival and was founding director of the Banff Mountain Book Festival. She is currently writing a history of Polish mountaineering in the Himalayas.
This event is sponsored by the Hamilton Writing Program, the Outdoor Leadership Program, the History Department, and the Dean of Faculty.