Bluegrass Legend The Seldom Scene to Perform
---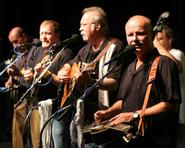 The Hamilton College Performing Arts Series and Kirkland Art Center join forces to present bluegrass legend The Seldom Scene on Friday, Nov. 2, at 8 p.m., in Wellin Hall, Schambach Center for Music and the Performing Arts.
Selected as an "American Masterpiece" by the Mid-Atlantic Arts Foundation, The Seldom Scene has long been regarded as one of the finest bands working in the genre. Combining skilled musicianship with an eclectic playlist, The Seldom Scene has become one of the most influential bluegrass bands in the United States. The band has performed at the White House many times, and continues to tour the world, garnering the moniker "America's Bluegrass Band."
Band members performing at Hamilton are Dudley Connell (guitar), Ben Eldridge (banjo), Lou Reid (mandolin), Fred Travers (dobro), and Ronnie Simpkins (bass).
In addition to the concert, Professor of Music Lydia Hamessley will present a pre-performance lecture/demonstration of bluegrass styles.
Tickets are $20 for adults, $15 for senior citizens, and $5 for students. Discounts are available for Kirkland Art Center members. All seating is general admission. For more information, call the box office at 859-4331 or visit www.hamiltonpa.org.