Students Present Posters at 57th Annual Biophysical Society Meeting
---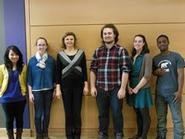 Kimberly Bogardus '14, Leah Cairns '13, Lennox Chitsike '13 and Akritee Shrestha '13 presented three posters at the 57th Annual Biophysical Society Meeting that took place Feb. 2-6 in Philadelphia.
The Hamilton students presented results obtained in the research laboratory of Associate Professor of Chemistry Myriam Cotten. Research in the Cotten lab focuses on structure and function of piscidin, a membrane-active peptide found on hybrid striped sea bass. The students' posters were accepted in the general poster sessions for the 2013 meeting, and presented along with presenters who are graduate students and post-doctoral researchers. The presentations were part of sessions on "Membrane Active Peptides and Toxins."
Jeremy Brendle '14, assisted with the research presented on Cairns' poster, which was titled "Investigating the Mechanism of Action of Antimicrobial Piscidin in Bacterial and Mammalian Lipid Membrane Mimics Using Oriented Circular Dichroism."
Alexander Dao '12 and Christopher Whiting were co-authors on Bogardus' poster titled "Structure-Function Relationships of Antimicrobial Piscidins 1 and 3 Bound to Cholesterol-Containing Lipid Membranes."
Shrestha's poster, which included Chitsike as a co-author, was titled "Structure-Function Relationship Studies of Piscidin 1 Bound to Model Tumor Cell Membranes." This was Shrestha's second Biophysical Society meeting. In 2012, she presented a poster that was selected for an Education Committee Travel Award. The recipients of this competitive award, who are students and postdoctoral fellows, are selected based on scientific merit. Very few of them are undergraduates. Awardees present their research at the conference, receive a travel grant, and are recognized at a reception.
Cotten also presented two posters of results obtained with collaborators Richard Pastor, '73, from the National Institutes of Health, and George Belfort of Rensselaer Polytechnic Institute.
The Biophysical Society conference gathers scientists and researchers from around the world in the interdisciplinary fields representing biophysics, and with more than 6,500 attendees, is the largest meeting of its kind for biophysicists.