No. 20 Bowdoin rallies for women's soccer win
---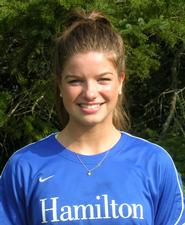 Bowdoin College scored three goals in the second half and the nationally ranked No. 20 Polar Bears posted a 3-1 NESCAC win against the visiting Hamilton College Continentals in Brunswick, Maine, on Oct. 12.

Box Score

Hamilton (3-3-2 overall, 1-3-2 NESCAC) took a 1-0 lead just 2:15 into the second half. Kendall Daly '17 won a contested ball in front of the goal and put it into the lower right corner of the net for her team-high fourth goal this year. Daly also leads the Continentals with nine points.

Bowdoin (8-1-1, 4-1-1) tied the score on a goal by Abby Hammerl in the 70th minute. Abby Einwag sent a ball high into the box that put Hammerl in position for a one-on-one with the goalie. Kiersten Turner put the Polar Bears ahead for good in the 80th minute. Turner took a pass from Amanda Kinneston and struck a low shot into the goal.

Kinneston added an insurance goal two minutes later. She converted a pass from Turner, who trapped a through ball and played it ahead to Kinneston, and closed out the scoring.

Hamilton outshot the Polar Bears 12-9, and owned an 8-3 corner kick advantage. Bridget McCarthy made seven stops for Bowdoin and Liza Gergenti '14 stopped one shot for the Continentals.

Hamilton plays another NESCAC game at No. 14 Middlebury College on Sunday, Oct. 13, at 2:30 p.m.