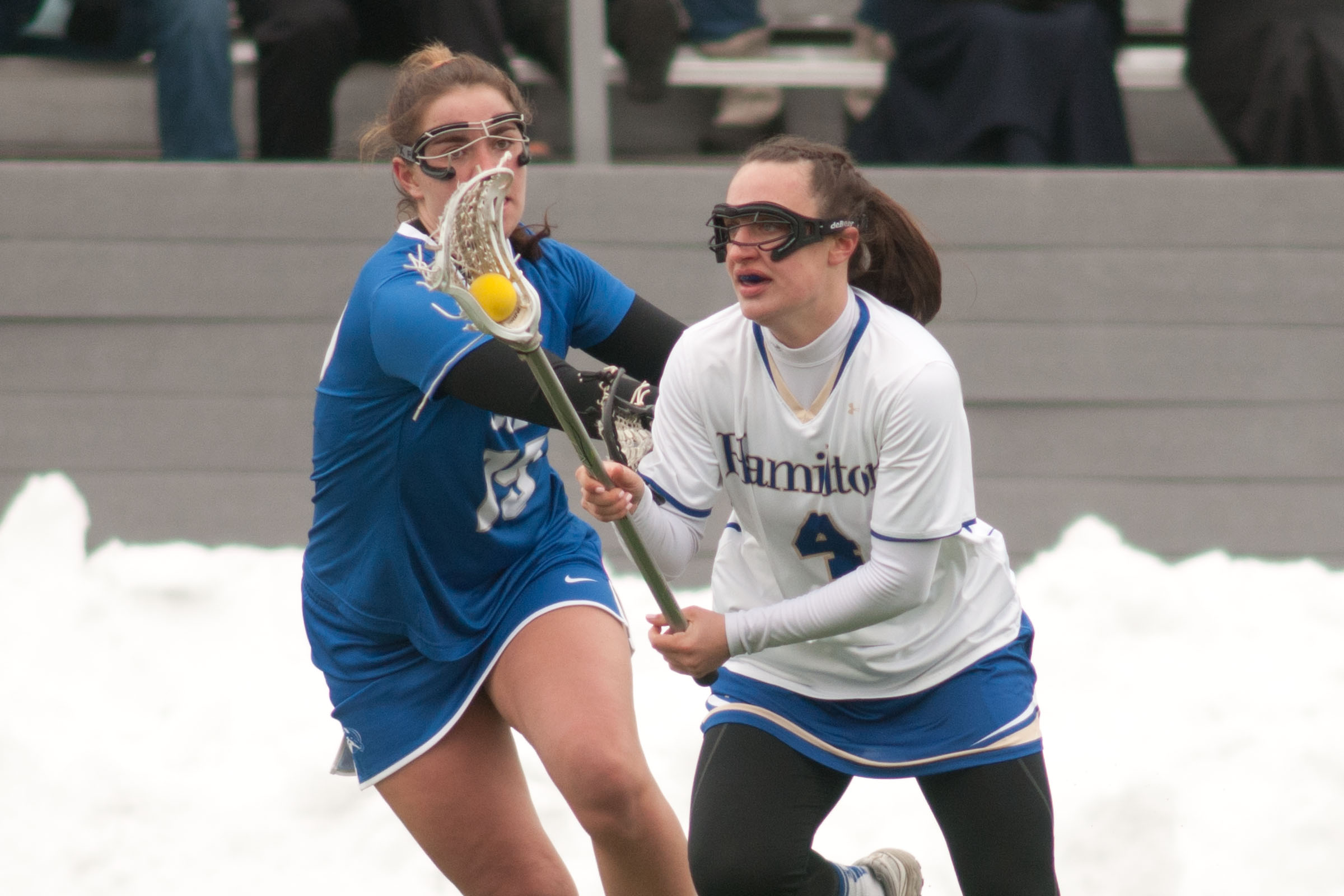 The nationally ranked No. 15 Hamilton College women's lacrosse team lost its first game of the season, falling in overtime to No. 5 Bowdoin College 8-7 in NESCAC action on Saturday afternoon at Hamilton's Steuben Field.

Box score

Hamilton (3-1, 2-1 NESCAC) held a pair of one-goal leads including a 6-5 advantage 6:52 into the second period on a goal by Ashleigh Stephan '15. Bowdoin's defense held the Continentals scoreless for the next 28:43 – covering the rest of regulation, the first three-minute portion of overtime and the first 2:35 of the second portion. Caroline McCarthy '16 scored to pull Hamilton to within a goal with 25.9 seconds left in the overtime session but Bowdoin's Lindsay Picard '17 won the ensuing draw (her sixth of the game) and the Polar Bears ran out the clock.

Olivia Raisner '15 and Megan O'Connor '16 both scored their second goal of the game during the first three-minute portion of overtime to put Bowdoin up 8-6. Mettler Growney '17, who assisted on Raisner's go-ahead goal 1:08 into overtime, scored the final goal of regulation and drew the Polar Bears even at 6-6 with 18:37 left in the second half.

Raisner, Clare McLaughlin (one goal, two assists) and Emma Beecher '16 (one goal, two assists) all finished with three points for Bowdoin, who's beaten Hamilton in overtime three times in the last four years.

Raisner assisted on the game's first goal, then gave the Polar Bears (4-0, 3-0) the second of their five one-goal leads 8:14 into the game, converting a pass from Beecher. O'Connor's second goal, which came with 15 seconds left in the first three-minute portion of overtime, marked the first time either team led by more than a goal.

McCarthy and Nora Klemmer '16 scored two goals apiece for the Continentals. Darby Philbrick '18 added a goal and an assist. She capitalized on a free-position shot 3:05 into the second half to tie the game at 5-5.

Picard, who also picked up two ground balls, helped the Polar Bears win 14 of the game's 19 draw controls. Taylor Wilson '15 led all players with five ground balls. Beecher, Growney, Natalie Moore '15 and Genna Warner '15 collected three each.

Bowdoin's Isabel Sippel '15 made all seven of her saves after intermission to remain unbeaten on the season. Hannah Rubin '17 stopped five shots for Hamilton.

Philbrick, Margaret Gabriel '16 and Hannah Withiam '16 picked up four ground balls apiece for Hamilton. Philbrick scooped up her fourth ground ball near midfield with 40 seconds left in overtime then fed McCarthy to bring the hosts to within a goal.

Stephan matched a career high with three caused turnovers for Hamilton.

The Continentals will play Keene State College on Wednesday, March 18, in Clermont, Fla., during their spring break trip. The Polar Bears will play their next two games in Florida, starting with a Monday contest against Mount Holyoke.