Brian Levin-Stankevich '72 Inaugurated President of Westminster College
---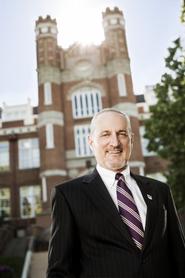 Brian Levin-Stankevich '72 was inaugurated the 17th president of Westminster College (Salt Lake City, Utah) on Oct. 20. The Buffalo, N.Y., native served as chancellor of the University of Wisconsin – Eau Claire from 2006 to 2012, before becoming president of Westminster. He has also held positions at the University at Buffalo (SUNY), Florida Atlantic University and Eastern Washington University.

In his inauguration address Levin-Stankevich assured attendees that a college education is a good bet, despite trying economic times. A liberal arts education at Westminster College means "educating the whole student," he explained. That includes the "great Socratic traditions of questioning and inquiry." But it also means preparing students for a successful role in the community and a good job, he added.

After graduating from Hamilton as a history major, Levin-Stankevich received master's and doctoral degrees from the University at Buffalo (SUNY). A Fulbright Fellowship facilitated his working in Soviet archives on his dissertation in Russian legal history. Levin-Stankevich has published and taught in Russian history, comparative legal history, enrollment management, comparative education and higher education administration. He was a professor in the Department of History at the University of Wisconsin – Eau Claire that received 2006 Regents' Teaching Excellence Department Award and was the 2011 recipient of the President's Award from Region IV-East of the National Association of Student Personnel Administrators.

As chancellor of the University of Wisconsin – Eau Claire, Levin-Stankevich successfully led the implementation of new degree programs (including the school's first doctoral program), more than $100 million in new construction and renovation, continuous annual growth in private fundraising, and broader integration of the university with its surrounding community.
From 2005-2006, he served as interim president of Eastern Washington University where he had served as vice provost, vice president and then provost from 1995-2006. He has served on Chamber of Commerce and Economic Development boards in Spokane and Eau Claire, and in various roles on the United Way of Eau Claire.

Throughout a long career in a range of administrative roles, Levin-Stankevich has maintained his connection to his scholarship and his students through presentations and classroom teaching, continuing this commitment even as chief campus executive. He has held positions in enrollment management, student affairs, undergraduate education, as an associate dean, and as a chief academic affairs officer.

Levin-Stankevich has been active in national and regional professional organizations and is a member of scholarly associations. He served on the NCAA Division III Presidents' Council and as a peer evaluator for two regional accrediting associations. He recently completed a post-doctoral program at the Warrington College of Business at the University of Florida.

"Dr. Brian," as he is known to students, has been married to Debi for 38 years. They have twin sons who are now 29. Levin-Stankevich is an avid recreational cyclist, guitarist and occasional adult-level hockey player.
Levin-Stankevich lauded the faculty and staff of Westminster and said he would continue its traditions. "Many of us took academic work expecting little by way of financial reward," he said. "We sought to improve lives, change family histories and contribute to the collective knowledge and wisdom of the world."

The Westminster College Board of Trustees hired Levin-Stankevich in March after a nationwide search. He succeeds Michael Bassis who served as college president for 10 years.