The Break-Up 2.0 Author to Lecture on April 14
---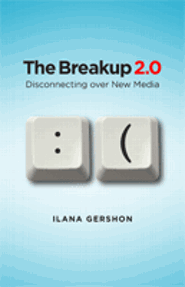 Ilana Gershon, author of The Break-Up 2.0: Disconnecting Over New Media (Cornell University Press, 2010),will lecture at Hamilton on Thursday, April 14, at 4 p.m., in the Bradford Auditorium, KJ Building. The lecture is free and open to the public.

The Break-Up 2.0: examines how new media—cell phones, social networks, and email—have affected the ways that romantic couples end relationships.

Gershon, an assistant professor in the Department of Communication and Culture at Indiana University, is a cultural anthropologist with an ethnographic focus in the South Pacific. She holds a Ph.D. from the University of Chicago and her research has been published in American Anthropologist, Current Anthropology, and Journal of Linguistic Anthropology. Her current research is on the political agency in New Zealand of the indigenous Maori people.


,