Sanjana Nafday '10 Looks at Race and Class in Brooklyn Criminal Justice System
---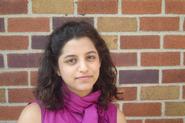 Having taken a class on research methods at Hamilton, Sanjana Nafday '10 is well-versed in statistics. But when she heard that 50 percent of those arrested in the Kings County District of Brooklyn belonged to ethnic or racial minority groups, she didn't need a hefty knowledge of numbers to understand that something was going on beneath the surface. The Bureau of Justice Statistics had reported that many of these individuals were from the lower economic strata or had poor educational background. To Nafday, there was an obvious hole in the study that she could not ignore.

This summer she is trying to fill the chasm through an Emerson project titled "Brooklyn's Criminal Justice System Viewed Under the Lenses of Race and Class." She will collaborate with Assistant Professor of Sociology Yvonne Zylan to determine if the overabundance of arrested minorities is a result of discrimination in the criminal justice system, or if those convicted are really at fault. The Emerson Grant Program began in 1997 and provides students with a chance to pursue an area of research that pertains to their career goals.

Nafday will focus on Brooklyn's criminal justice system. Her research will attempt to sort through the entangled debate around race, class, law, and justice. She will also identify the social problems which could contribute to the flaws in the penal code. Nafday suspects that "extralegal" hierarchies might augment the number of indigent minorities arrested in Brooklyn. But she also believes the system might be unfair.

"I'm trying to find out to what degree the legal system created these differential statistics and to what degree these statistics are a result of inherent hierarchies in society," she explained. "It seems to be a combination of both." She says many at the bottom of the socio-economic hierarchy are educated in underfunded schools that give them no chance to lead financially stable lives. They end up resorting to crime to solve their problems.

Nafday is studying several theories – among them are the value consensus model and the conflict model. The former asserts that the purpose of law is to be an expression of values that transcend the immediate interests of the individual. That is, it argues that the current legal system is based on an underlying moral code, and so acts as a fair referee between branches of government and its citizens. The latter, conflict theory, is extreme in its claims stating that law is created by powerful members of society as a tool to suppress the working class. The issue is complicated, wrought with many theories and explanations. Sanjana does not expect to come to any decisive conclusion at the end of her research. She is using this opportunity to gain a deeper understanding of the condition and structure of the criminal justice system.

To complement her readings, Nafday will interview attorneys involved in the criminal justice system. She will also observe public trials and do a statistical analysis of the racial and economic statuses of those arrested in Brooklyn, tasks that might sound tedious and bland to some of her friends or family. But not to Nafday.

"I like thinking about systems in an analytic way," she said.

As a government major and sociology minor, she wants to go to law school after Hamilton and work in the same area of study. She is also a member of Hamilton's Publius Society, a club that promotes discussion about the Constitution, Federalist Papers, and other important government documents.

Nafday is a graduate of Stuyvesant High School.