Brother Outsider: Life of Bayard Rustin to be Screened
---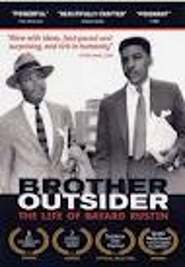 To commemorate Black History Month, the Days-Massolo Center will screen the documentary Brother Outsider: Life of Bayard Rustin, on Tuesday, Feb. 7, at 4:15 p.m., at the Center on College Hill Road. The screening is free and open to the public.
Bayard Rustin is best-remembered as the organizer of the 1963 March on Washington. During his 60-year career as an organizer, he formulated many of the strategies that propelled the American civil rights movement. His passionate belief in Gandhi's philosophy of nonviolence drew Martin Luther King Jr. and other leaders to him in the 1940s and '50s; his practice of those beliefs drew the attention of the FBI and police. His open homosexuality forced him to remain in the background, marking him again and again as a "brother outsider." Brother Outsider: the Life of Bayard Rustin combines rare archival footage with provocative interviews to illuminate the life and work of a forgotten prophet of social change.
The 2003 film by Bennett Singer and Nancy Kates was a Sundance Film Festival official selection.