C. Fiona Kirkpatrick '10 Turns Lens on Bollywood Blockbusters
---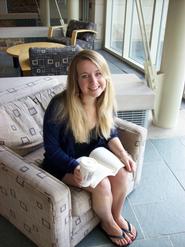 In Bollywood movies, romance is trailed by an international shadow. The majestic palaces and cathedrals of Europe have become iconic of love themes in Hindi language movies, many of which have burst box offices both at home and abroad. It is also especially common to see scenes of men sweeping women off their feet as mountains like the Swiss Alps rise to a clear sky in the background. The ways in which both women and nation are portrayed in Bollywood movies are fascinating to (Catherine) Fiona Kirkpatrick '10, whose research project this summer will analyze these gendered and nationalist discourses. Her collaboration with Assistant Professor of Anthropology Chaise LaDousa is funded by the Emerson Grant Foundation, created in 1997 to encourage students to work with faculty on research that suits their specific interests.

A prototype Bollywood movie is melodramatic and replete with song and dance. The name is a combination of Bombay (the former name for the Indian city of Mumbai) and Hollywood. Hindi films are heavily influenced by American cinema in that they borrow some of the musical and theatrical styles that American movies flaunted in the 1920s through 1950s. Among other influences are ancient Sanskrit dramas with their emphasis on rhythm and glamour, and Indian epics, which weave side stories and back stories into their narrative.

But unlike Hollywood movies, Bollywood does not attempt to hide the fact that their worlds are sometimes mythical, sensational and altogether unrealistic. However, because the nature of their movies is intentional, Kirkpatrick feels that directors must have a motive for capturing certain people and places the way they do.

She is spending most of her time researching Bollywood movies released in the 1990s. It was during this decade that they started to become more popular in other countries, especially in cities with high proportions of South Asian expatriates. The spreading Bollywood fever caused filming locations to become tourist attractions, and Hindi filmmakers engaged in a new level of interaction with the European and American culture. Modern movies also have an ironic blend of the conservative and the risqué, which reflects the tension in political and social attitudes toward the westernization of modern India.

Kirkpatrick is interested in this irony between ideologies. While older films tended to have an overwhelming amount of seduction and passion in them, new films are more subtle in their commentaries on women and marriage. In many modern films, women are not overly scandalous, but in dance sequences like the famous "wet sari" scene, characters in the movie pour water on a woman to portray her in an erotic light.

"It becomes a way to convey women as still being sexual objects," Kirkpatrick said. "In these movies, viewers are allowed to look at women, and it's [considered] okay for them to do so." She points out that this, combined with the love triangles, sacrifices, intrigue, thrills and villains of this genre, provide for an interesting analysis.

Most of her research consists of reading articles and books on the subject, and watching movies like Dilwale Dulhania La Jayenge (The Brave-Heart Will Take the Bride) and Lajja (Shame). Lajja is Kirkpatrick's favorite Bollywood movie. She loves watching this genre because of the fun factor – but she doesn't just watch them at home on the couch.

"I love trans-Atlantic flights because they show so many Hindi language films," she said. "I always make whoever is with me watch them too."

Kirkpatrick decided to major in anthropology after originally coming to Hamilton as an intended English major. "I took some classes, and then decided to give my studies an anthropological slant, because it seemed more fun." She says that LaDousa, as well as Professor of Anthropology Bonnie Urciuoli, were key factors that made her want to switch.

"It was 'game over' for me," she laughed.