Cafruny, Lehmann Contribute to New Book
---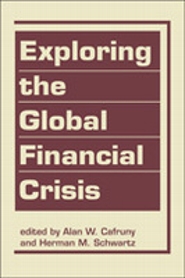 Alan Cafruny, Henry Bristol Professor of International Affairs, and Ted Lehmann, assistant professor of government, contributed to the recently published Exploring the Global Financial Crisis, volume 18. It is part of the series Advances in International Political Economy, edited by Cafruny and Herman Schwartz (University of Virginia) under the sponsorship of the International Studies Association (Lynne Rienner Publishers, 2013).
In "Oil and the Sino-American Rivalry," Lehmann describes China's rise and incorporation within the oil-based energy and industrial order established by the U.S. after World War II. He concludes that as U.S. leverage wanes China may be decoupling the leading states of the Middle East from American influence and also leading a non-oil based industrial evolution toward electrified transportation systems.
In "The Crisis of the Eurozone" Cafruny (and co-author Leila Simona Talani of Kings College London) address the origins and implications of Europe's imploding monetary union.