Carter and Merrill Co-Author Paper, Present at Conference
---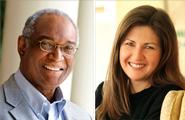 Professor of Africana Studies and Chief Diversity Officer Donald Carter and Associate Professor of Africana Studies Heather Merrill participated in the conference "Race, Ethnicity, and Place" in San Juan, Puerto Rico, during the week of Oct. 22.
They presented a paper they co-authored titled "Producing African-Italian subjectivities and place identities in Turin, Italy." The paper explores the making and contestation of racialized place identities, arguing that place is both limiting and porous.
Examining the emergent cultural world of African-Italians and their encounters with established Italians in Turin neighborhoods, the authors argue that African-Italians at once disrupt taken-for-granted place identities and reshape the terrain of subjectivity as "locals" with global sensibilities.