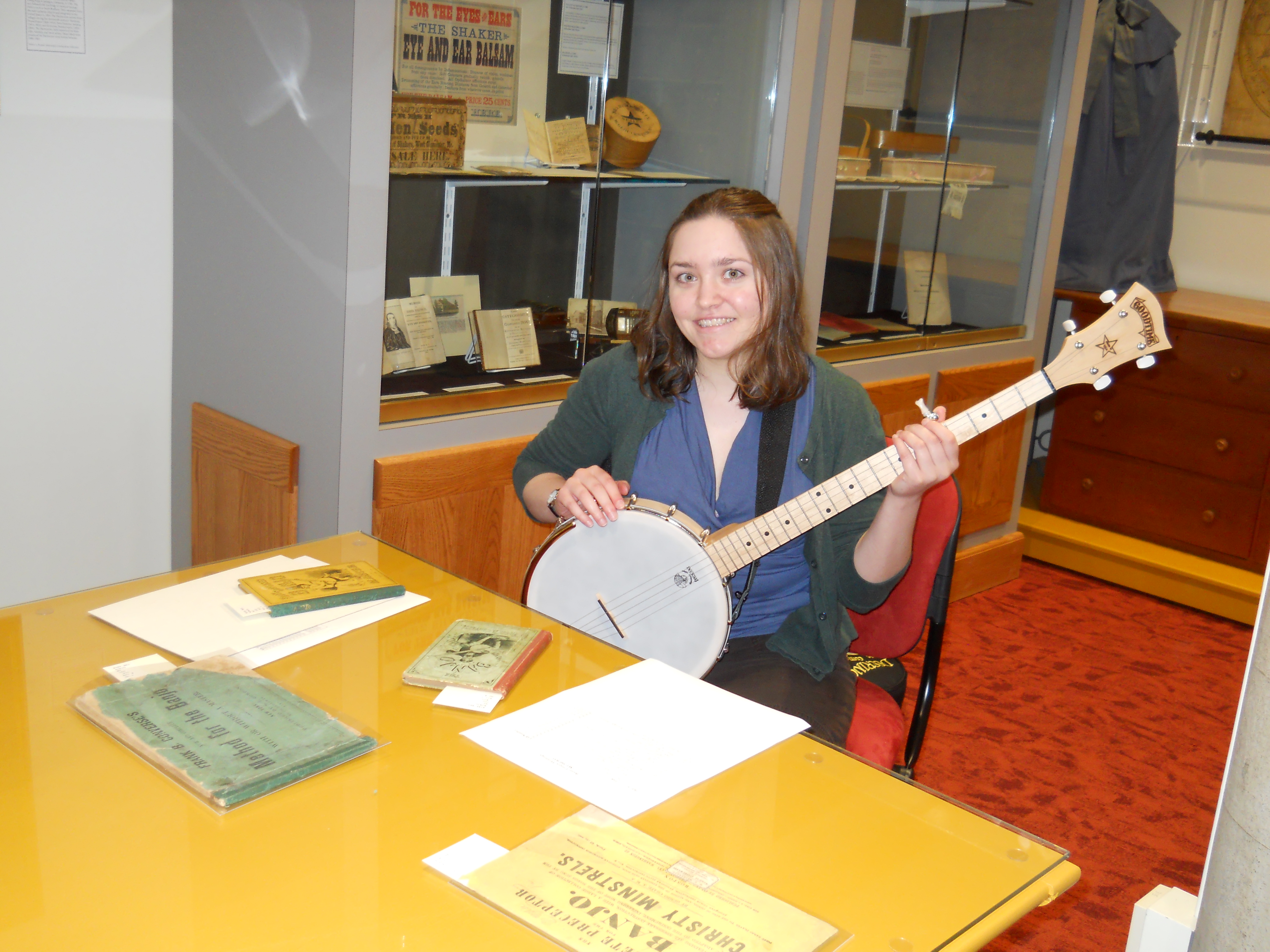 The banjo is most readily associated with country music, and few people take the time to examine its history and its effect on American music. However, the banjo can reveal much about socioeconomic class, slavery and music in the 19th century. Catherine Crone '13 certainly sees the value in this often-neglected instrument. She will spend this summer researching the banjo in order to build an Internet resource about its past and its significance. Crone will be working under an Emerson Summer Grant with Professor of Music Lydia Hamessley to create their project, "A Study of Banjo Instruction Manuals from the 19th Century."
The banjo is more than bluegrass and folk music. This instrument is often overlooked in history, but actually the banjo played a significant role in nineteenth century American music. Originally, banjos were created by black slaves who modeled it after African instruments, and so white Americans rarely used them. However, by the turn of the 19th century it had become a parlor instrument in white middle-class homes. The banjo owes this radical change to its manufacturers, who released an advertising push for banjos in the 1800s. Once banjos became more popular, they made their name as an important instrument in American music history.
Hamilton's Rare Book Room has recently acquired an extensive and unique collection of banjo instruction manuals and other banjo-related materials. Crone, a music and math double major, will rely on this collection, as well as a few modern secondary sources, to craft an interactive website that will provide a public resource about banjo history and information. She hopes that ultimately, the website will function "like a good museum exhibit, putting each piece in a historical context and in context of the overall collection." Crone and Hamessley will achieve this through detailed, searchable coding and easy-to-follow commentary throughout the pieces on the site. In particular, they wish to showcase the rarest of the primary sources they are working with. While she will not create the website itself, she and Professor Hamessley will provide all the content for it. They hope to construct an interdisciplinary resource for historians, sociologists and music-lovers.
To further her exploration of the banjo, Crone will teach herself to play the instrument based on some of the manuals. By examining the different styles of playing in different manuals, Crone will draw connections between playing styles and socioeconomic class. She looks forward to building a practical source of information that will be available to a broad community. On a personal level, Crone eagerly anticipates the opportunity to combine her interests in library science and music, as she is very passionate about music and enjoys playing classical piano. In her free time, she enjoys crocheting, reading mystery novels and watching old movies.
There is more to the banjo than meets the eye. Contrary to popular belief, the banjo is actually essential to gaining a full picture of American music history. Crone and Hamessley will examine this instrument's role in history and share their findings with the broad range of audiences who could benefit from this information.
Catherine Crone is a graduate of Troy High School in Troy, NY