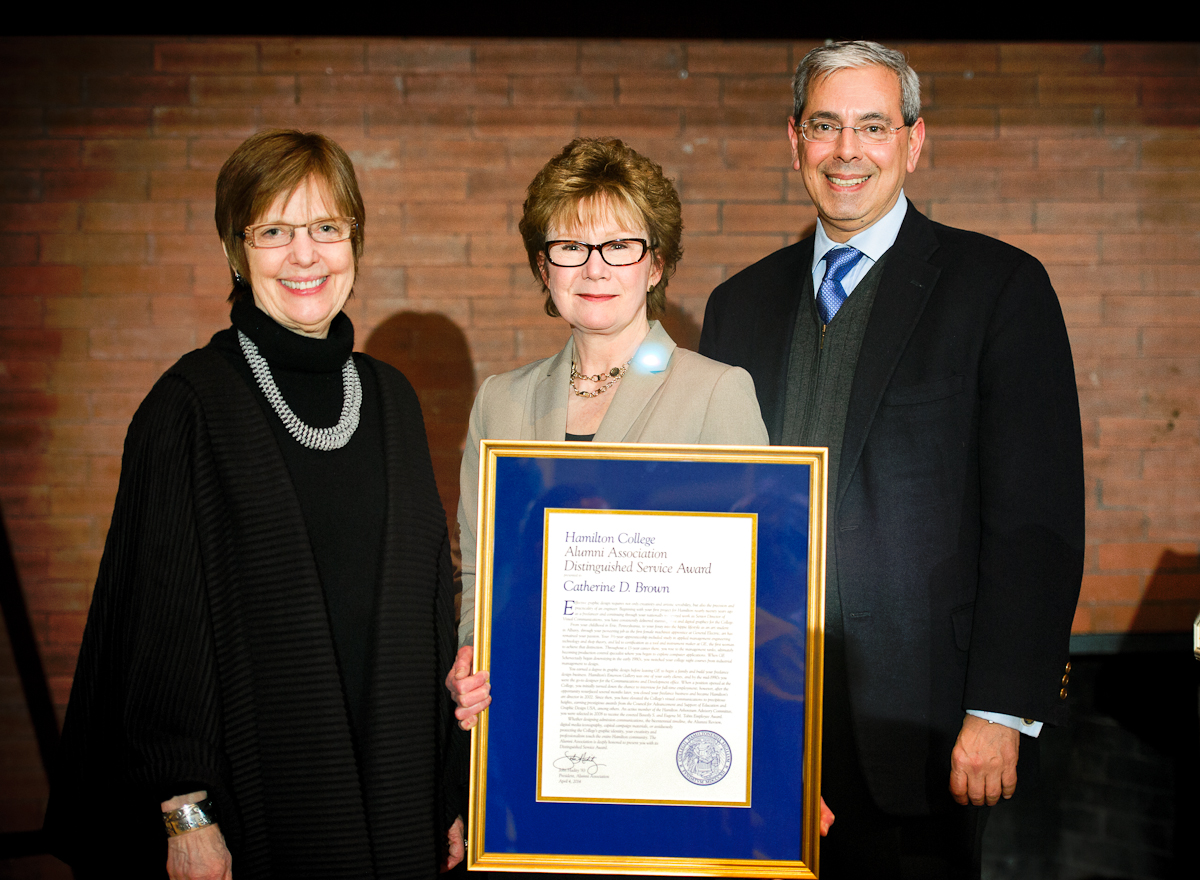 Catherine Brown, senior director of visual communications in Hamilton's Communications Department, was honored as the 2014 Distinguished Service Award recipient by Hamilton's Alumni Association. John Hadity '83, president of the Alumni Association, presented the award on April 4 during the Alumni Council's Recognition dinner.
The Distinguished Service Award recognizes an employee who has substantially contributed to Hamilton through distinguished job performance and through involvement in student, alumni or other activities in the College community.
The citation awarded to Brown summarized her contributions to Hamilton. "Beginning with your first project for Hamilton nearly 20 years ago as a freelancer and continuing through your nationally recognized work as Senior Director of Visual Communications, you have consistently delivered stunning print and digital graphics for the College," it read.
Brown grew up in Erie, Pa., attended art school in Albany and was the first female machinist apprentice at General Electric in Schenectady, N.Y. She completed a 3½-year apprenticeship that included study in applied management engineering technology and shop theory, and led to certification as a tool and instrument maker at GE, the first woman to achieve that distinction.
During her 13 years at GE, Brown ultimately becoming production control specialist where she began to explore computer applications. When GE Schenectady began downsizing in the early 1980s, she switched her college night courses from industrial management to design.
Brown earned a degree in graphic design before leaving GE to begin a family and build a freelance design business. Hamilton's Emerson Gallery was one of her early clients, and by the mid-1990s she became the go-to designer for the Communications and Development office.
When a position opened at the College, she initially turned down the chance to interview for full-time employment; however, after the opportunity resurfaced several months later, she closed her freelance business and became Hamilton's art director in 2002.
Since then, she has elevated the College's visual communications, earning prestigious awards from the Council for Advancement and Support of Education and Graphic Design USA, among others. An active member of the Hamilton Arboretum Advisory Committee, she was selected in 2008 to receive the coveted Beverly S. and Eugene M. Tobin Employee Award.
The citation concluded, "Whether designing admission communications, the bicentennial timeline, the Alumni Review, digital media iconography, capital campaign materials, or assiduously protecting the College's graphic identity, your creativity and professionalism touch the entire Hamilton community."