Chang, Recent Grads Present in Norway
---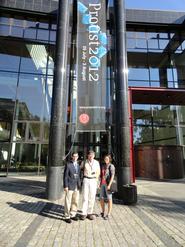 Assistant Professor of Biology Wei-Jen Chang and his thesis students, Tani Leigh '12 and Matthew Therkelsen '12, presented during the Protist2012 conference held July 29-Aug. 3 at the University of Oslo in Norway.
More than 150 students and professors from around the world gathered in Oslo to present their research on a wide variety of topics related to eukaryotic protozoa, including protist diversity, dispersion, evolution, phylogeny and genomics. Chang, Leigh and Therkelsen were invited to give a twenty-minute talk in addition to presenting their research at the poster session.
Chang presented his research on the fish parasite Ichthyophthirius multifiliis, or "Ich," in his talk "Sex or no sex: The probe for sexual reproduction in fish parasite Ichthyophthirius multifiliis." For his presentation, Chang explained how he and Hamilton graduates Ke Xu '11 and Annie Lee '11 investigated the expression of meiosis and conjugation-specific genes during the Ich life cycle to determine whether Ich undergoes sexual reproduction, an event which has not been visually observed in this species.
Leigh presented her research titled "Phylogenomic analyses on the evolution of eukaryotes using concatenated ribosomal protein sequences." She used multiple concatenated ribosomal proteins sequences as molecular markers to reconstruct phylogenetic trees to resolve the evolution of various eukaryotic species, many of which are protists. Leigh, majored in biology at Hamilton.
Therkelsen, who majored in biochemistry, presented "Molecular characterization of Ichthyophthirius multifiliis." He developed a method of accurately characterizing geographically diverse strains of Ich using single nucleotide polymorphisms (SNPs) as genetic markers.
Leigh and Therkelsen received support from the Casstevens Family Fund and from the Dean of Faculty office.