Choir Embarks on Spring Tour
---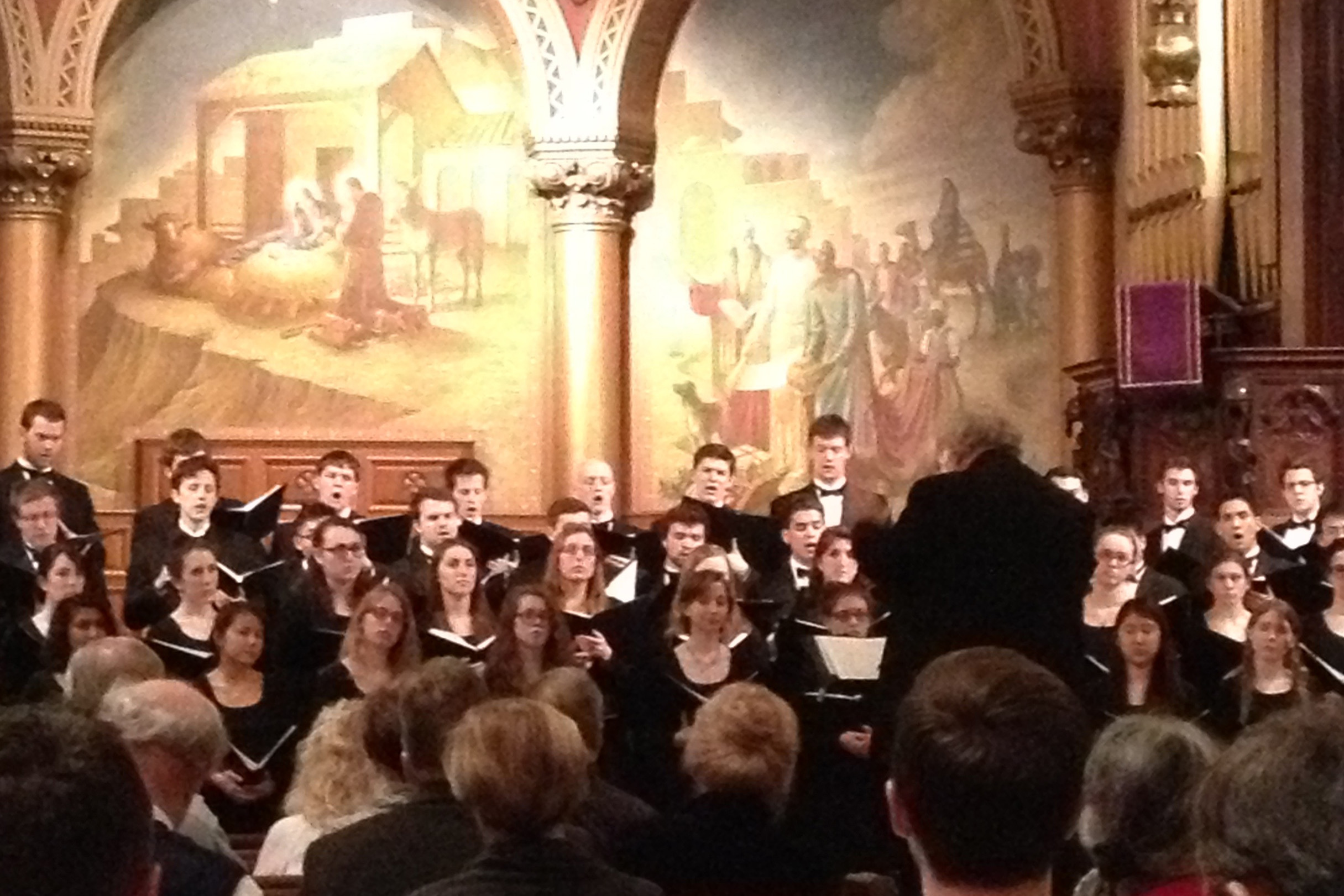 The Hamilton College Choir will hit the road for its annual spring break tour, this year visiting cities in the Northeast. The 78 members are directed by G. Roberts Kolb, professor of music and director of choral music at Hamilton since 1981.
The choir will perform in seven cities beginning with Albany, N.Y. – suburb Delmar on Saturday, March 15, at 7:30 p.m., at the First United Methodist Church.
Other performances are:
Sunday, March 16, 3 p.m.
Old South Church
645 Boylston Street
Boston, Mass.
Monday, March 17, 7:30 p.m.
St. Rose of Lima
40 Church Hill Road
Newtown, Conn.
Tuesday, March 18, 7:30 p.m.
St Boniface Church
109 Willoughby Street
Brooklyn, N.Y.
Wednesday, March 19, 7:30 p.m.
Larchmont Avenue Presbyterian Church
60 Forest Park Avenue
Larchmont, N.Y.
Thursday, March 20, 7:30 p.m.
Church of the Holy Trinity
1904 Walnut Street
Philadelphia, Pa.
Friday, March 21, 7:30 p.m.
St. Paul's Lutheran Church
4900 Connecticut Avenue Northwest
Washington, D.C.
The choir will perform its home concert on Friday, April 4, at 7:30 p.m., in Wellin Hall, Schambach Center. All performances are free and open to the public.
The program for this year's choir tour is a varied one that includes both sacred and secular music such as Handl's "Pater noster," Lotti's "Crucifixus" and Josquin's "Ave Maria."
Other selections include Whitacre's "With a Lily in Your Hand," Carmichael's "Smoke Gets in Your Eyes" and Rossini's "The Barber of Seville Overture."
The Hamilton College Choir boasts an uninterrupted tradition of fine choral singing that dates back for over a century. Students on the tour are hosted by Hamilton alumni and parents.