Choir Will Tour the Mid-Atlantic During Spring Break
---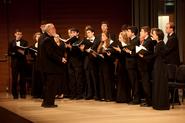 The Hamilton College Choir will perform in seven Mid-Atlantic cities during its annual March tour. The choir will begin the tour on Saturday, March 12, in Stroudsburg, Pa., and conclude on Friday, March 18, in Princeton, N.J.

Under the direction of G. Roberts Kolb, professor of music and director of choral music at Hamilton since 1981, the 64-member choir and College Hill singers will present a selection of both sacred and secular works ranging from the Renaissance to the present day.

The Hamilton College Choir boasts an uninterrupted tradition of fine choral singing that dates back for over a century. The choir travels regularly throughout the eastern half of the United States and has undertaken six concert tours in Europe over the last 22 years. Other cities on the mid-Atlantic tour will include Washington, D.C., Charleston, S.C., Columbia, S.C., Richmond, Va., and Chapel Hill, N.C.