Algebra Project Founder Bob Moses '56 to Lecture
---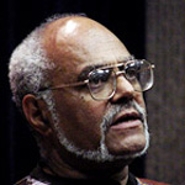 Bob Moses '56, founder and president of The Algebra Project and a renowned civil rights activist, will give a lecture on "Quality Public School Education as a Constitutional Right," on Monday, Oct. 25, at 7:30 p.m. in the Chapel. His lecture is part of the 2010-11 Levitt Center series on "Inequality and Equity" and is free and open to the public.
Moses was a key player in the Civil Rights Movement of the 1950s and 1960s. He served as the field secretary for the Student Non-Violent Coordinating Committee (SNCC) and directed SNCC's Mississippi Project, a program to register black citizens to vote. From 1969 to 1976, Moses worked for the department of education in Tanzania and taught math at a local school.
A MacArthur Foundation Fellow from 1982-87, Moses used his fellowship to develop the concept for the Algebra Project, wherein mathematics literacy in today's information age is as important to educational access and citizenship for inner city and rural poor middle and high school students as the right to vote was to political access and citizenship for sharecroppers and day laborers in Mississippi in the 1960s. As founder and president of the Algebra Project Inc., Moses also serves as director of the project's materials development program. Together with Algebra Project board member Danny Glover, Moses and others recently launched a national discussion calling for an amendment to the U.S. Constitution for Quality Public School Education as a civil right.
Moses has completed post-graduate work in philosophy at Harvard University. He has received several college and university honorary degrees and honors, including the Heinz Award for the Human Condition and the Nation/Puffin Prize for Creative Citizenship.
Moses will take part in other events on campus prior to his Monday lecture. He will participate in a community wide discussion on using grassroots organizing as a tool to build communities through a demand for Quality Education as a Constitutional Right (QECR). The discussion will take place on Saturday, Oct. 23, from 4 to 6 p.m. in the Fillius Events Barn. It is organized by The Young People's Project at Hamilton.
On Sunday, Oct. 24, at 2 p.m., in the Bradford Auditorium, KJ Building, the F.I.L.M. Series at Hamilton will screen Black Natchez, about the civil rights movement, and Moses will join in the discussion after the film.