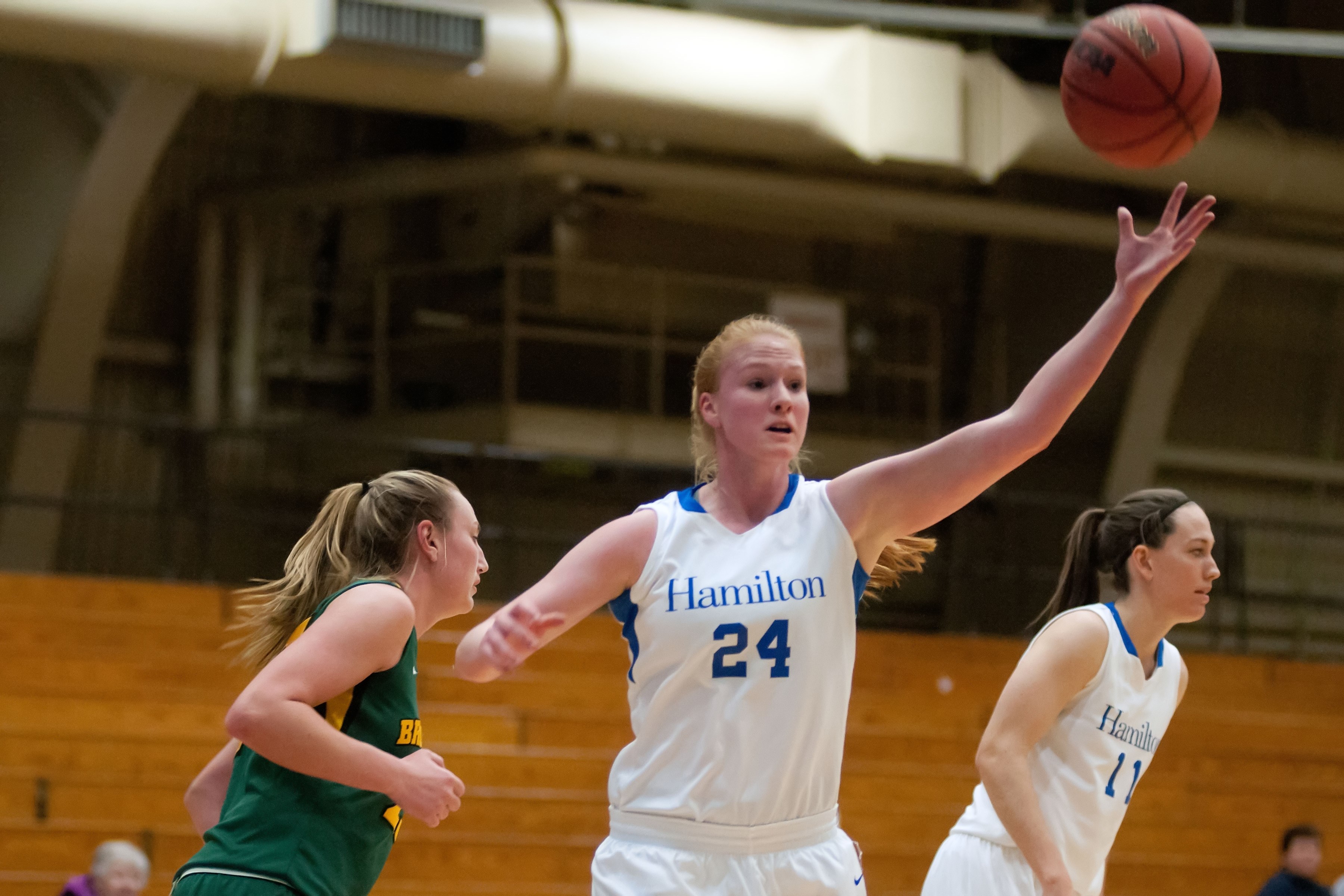 The Hamilton College women's basketball team climbed out of an early hole against Clarkson University on Saturday afternoon to take a late lead before the Golden Knights rallied for a 70-66 non-conference win at Hamilton's Margaret Bundy Scott Field House.

Box score

The loss was the Continentals' first since Nov. 24, snapping a five-game winning streak, which was the program's longest since opening the 2010-11 season 5-0. Clarkson won its fifth game in a row.

The Golden Knights (7-2 overall) trailed 62-59 with three minutes to go after Samantha Srinivasan '18 gave Hamilton its biggest lead with a 3-point basket from the top of the key. Clarkson held the hosts to one basket for the rest of the game, outscoring the Continentals 11-4.

Madison Shea '18 gave the Golden Knights the lead for good at 67-65 on a jumper with 2:12 left. A Srinivasan free throw pulled Hamilton within 67-66 with 1:41 remaining but the Continentals turned the ball over three times in the final 30 seconds and Clarkson sealed the win by making three free throws down the stretch.

Srinivasan finished with 20 points and eight rebounds, matching career-high totals in both categories. Sam Graber '16 and Lauren Getman '18 both finished with double-doubles for Hamilton (7-4). Graber led the Continentals with 23 points and pulled down 10 rebounds, and Getman scored 10 points and pulled down a team-high 11 rebounds.

The Golden Knights made their first four shots en route to a 9-1 lead in the first 76 seconds. They pushed their advantage to nine points 5:06 into play before Hamilton used an 11-2 run to tie the score at 17-17 midway through the period. Cara Manfredi '15 and Ashley Loggins '16 combined for nine points in Clarkson's opening salvo. Theresa Salud '17, who scored all nine of her points in the first half, converted a pair of passes from Caroline Barrett '17 to start the Continental run, then tied the game with a layup at the 11:19 mark.

Clarkson needed just over three minutes to re-establish its nine-point lead with Manfredi scoring six points and assisting on a pair of baskets during a 12-3 spurt that made it 29-20.

After the Continentals closed the half on a 17-9 run to go into intermission trailing by a point at 38-37, the Golden Knights opened the second half scoring seven of the first 10 points to go up 46-41. Layups on consecutive possessions by Getman, Srinivasan and Graber gave Hamilton its first lead at 47-46 just under four minutes into the period. Six lead changes followed before Shea, who finished with 12 points, five assists, four steals and three rebounds, put Clarkson ahead to stay.

Stephanie Grobe '17 led the Golden Knights with 16 points and added five rebounds, four assists and a pair of blocked shots. Loggins recorded 12 points and game-high totals of 12 rebounds and five steals. Manfredi finished with 15 points, including three 3-point baskets.

Graber, the NESCAC's leading scorer, raised her average to 19.7 ppg. The double-double was her sixth this season and the 13th of her career. Salud matched a career best with a team-leading four assists and Adrianna Pulford '15 pulled down seven rebounds (one short of her career high) to help the Continentals to a 44-37 advantage on the boards.

The win was just the third for Clarkson in the last 21 meetings (the three victories have come by a combined 13 points) and cut Hamilton's series lead to 32-18.

The Continentals conclude their four-game home stand on Tuesday, Jan. 6, against the University of Rochester in a 6 p.m. non-league game before opening NESCAC play on Friday, Jan. 9, at nationally ranked No. 4 Amherst College. Clarkson carries its winning streak into a Liberty League game at William Smith College on Friday.